The Trendy (& Cost-Efficient) Holiday Vacay You Should Book ASAP
Shutterstock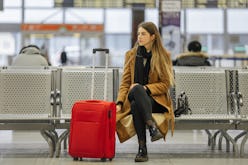 In addition to being warm and bright, the holiday season can be a stressful blur of cooking, shopping, and yes — spending time with extended family. But what if you decided to forego the hustle and bustle (or at least, take a break from it) by heading out of town for a vacation this year? If trading presents for plane tickets is your idea of yuletide cheer, now's the time to jump on some holiday travel deals before it's too late.
While the weeks that coincide with school vacations are likely to attract crowds, the weeks in between are some of the best times to score low rates from now through the year's end. So if you and your closest loved ones are of the "experiences over things" mindset — or heck, maybe you're craving a solo adventure — gathering lasting memories instead of gifts may be the best way to celebrate the holiday season. (But don't worry, you'll enjoy plenty of souvenir shopping while you're away.)
Ahead, travel experts uncover some of their favorite travel deals of the season. From a majestic winter wonderland right here in the US, to a super-affordable Caribbean escape, to a bucket-list adventure through the European Christmas markets, these discounted vacation ideas will certainly put you in a festive spirit.
Experience A Winter Wonderland In Georgia
Those in search of (family-friendly) Christmas magic can find yuletide cheer far south of the North Pole. "In the heart of Georgia's Golden Isles, Jekyll Island turns into a magical winter wonderland full of holiday spirit, over-the-top Christmas décor, and special festivities," says Patty Henning, director of sales and marketing for Jekyll Island Club Resort. "The island dresses up with twinkly lights, an 'ice' skating rink, and more. Guests are welcomed to stay at the new Jekyll Island Club Resort, which has its own lineup for holiday activities including a Christmas cookie workshop, breakfast with the Grinch, holiday chef demonstrations, a Christmas ventriloquist show, and more."
What To Book:
Get A Taste Of Europe (Without Leaving The Continent)
Depending on where you live, a food-filled, European-style holiday may be just a train ride away — with no ocean-crossing required. "Montreal oozes charm," begins Staffo Dobrev, a budget travel expert at the bus and train booking site Wanderu. "It also oozes gravy atop a pile of poutine. (I recommend Greenspot off Notre-Dame Street, where a classic plate runs about CA $10 [about $7.50 USD])."
While he warns that the weather will be cold, the festive scenery and thriving foodie scene is sure to keep you warm (plus, you'll have an excuse to duck into every hole-in-the-wall you pass by). "Whether you're studying French or are just capable enough to order une bière, the bustling Quartier des Spectacles entertainment district is a terrific place to flex your language skills with the local bartenders. A pro tip: Packed with fresh food booths, Jean-Talon Market is a great place to visit for some to-go grub before walking to the top of Mount Royal Park, where you can enjoy some breathtaking panoramic views."
What To Book:
Train or bus tickets: Book a train or bus ticket via Wanderu. There are plenty of US destinations from which you can visit Canada; both New York and Boston have direct one-way fares to Montreal.
Dates: Between October and December
Rates: $35-65 for buses; $70-125 for trains (from New York or Boston)
Accommodations: Keep things budget-friendly by staying in a local Airbnb, where you can easily nab a place to stay for less than $50/night.
Cruise To The Caribbean
Maybe you want to trade the snow for some Caribbean sun — even just for a few days. It's a good time, too; Colleen McDaniel, editor-in-chief of Cruise Critic, says the weeks in between school breaks are some of the best for snagging deals. "With school in session (excluding holidays), late fall to early winter can be a great time to cruise to the Caribbean," she says. "Crowds have thinned, it's the tail end of hurricane season, and prices have fallen. By booking now, you're also in the window of a last-minute booking: The three months prior to a sail date, when cruise lines tend to slash fares even more to fill empty cabins."
Further, she adds that cruises don't have to be long affairs; in fact, you can set sail for an affordable extended weekend. "For a true budget-friendly escape, look to three or four-night sailings that you can find now for less than a one-night hotel stay," she suggests. "And a special perk to cruising over the holidays: Cruise lines take them seriously – festive décor, holiday-themed events onboard and in-port, etc." McDaniel shares some of her top picks below.
What To Book:
5-Night Key West & Nassau Holiday with Royal Caribbean
Ports: Key West, Nassau
Dates: December 23, 2019
Ship: Majesty of the Seas
Rates: Starting at $374/person
7-Night Eastern Caribbean Cruise with MSC Cruises
Ports: San Juan, St. Thomas, San Juan, Nassau, Ocean Cay
Dates: December 14, December 28
Ship: MSC Seaside
Rates: Starting at $389/person
Tour The European Christmas Markets (By Boat)
"Visiting Europe's famous Christmas Markets is on the bucket lists of so many travelers, but you might not realize that you can actually visit multiple markets all in one trip — without the hassle of multiple forms of transportation or packing and unpacking more than once," McDaniel points out. "Christmas market river cruises are hugely popular, and are a fantastic way to immerse yourself in the magic of the season."
She admits that they'll still put a dent in your wallet, but "they're often a cheaper way to visit the Christmas markets, as compared to visiting by land. Generally, we recommend booking these cruises early — with a limited number of sailings, they tend to book up quickly — but there are still sailings available that you can book last-minute, now with some last-minute discounts as the lines work to fill remaining cabins. (Just be warned that because you're booking late, you might not get your top priority cabin or sail date.)"
What To Book:
7-Night "Christmas Markets on the Rhine" with AmaWaterways
Ports: Amsterdam, Cologne, Rudesheim, Ludwigshafen, Gengenbach, Breisach, Basel
Dates: November 24, 2019; December 8, 2019; December 22, 2019
Ship: AmaSerena
Rates: Starting at $2,599/person
7-Night "Dashing Through the Danube" with U River Cruises
Ports: Budapest, Bratislava, Vienna, Emmersdorf, Passau, Regensburg
Dates: December 13, 2019; December 20, 2019; December 27, 2019
Ship: The A
Rates: Starting at $1,999/person
Take A Spa Holiday In Italy
Consider leaving your winter woes (far) behind by taking to the skies and heading to a rejuvenating haven ... in Italy.
The Terme di Relilax Hotel & Spa in Montegrotto, just outside of Venice, is a boutique spa resort that offers solace from the season's typical exhaustion (did we mention it's in Italy?). Founded in 1892, the Relilax has been owned by the same family for four generations and offers luxe services like thermal mud treatments, therapeutic massages, fitness classes, and more. The resort also gets festive during the holiday season, when guests can enjoy live music and themed meals. And if you want to do some exploring? Try touring the town by bike or head to Venice, a short drive away.
What To Book:
Package: Ask for the seasonal winter package, which is available by contacting the hotel directly. It includes an accommodation in a Classic-category room; a breakfast buffet for two, daily four-course lunches, Access to three thermal water pools, (inclusive of Turkish Bath, Finish Sauna, Bio Sauna, Sensory Showers and Sensory Path on River Stones), and more.
Dates: Winter season
Rates: Starting at $200/night