The Stunning City You Have To Visit During The Holiday Season
Marcio Jose Bastos Silva/Shutterstock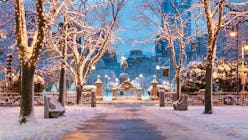 The holiday season is just around the corner, which usually means lots of togetherness. But maybe your family is out of town this year or maybe you are simply forgoing heading home and opting for a vacation with a significant other instead. Whatever the case, finding a beautiful new place to spend the winter holidays may make for a memorable experience, whether you go for a weeklong excursion or a weekend retreat.
Whether you're dreaming of a getaway on the slopes, a cozy weekend by the fireplace, a taste of Old World magic, or a tropical escape under palm trees, these expert-recommended destinations suit any travel style. Ahead, check out some getaways from around the world that were handpicked by the experts at CIRE Travel, Couples Coordinates, and Orbitz.
One thing to note: If you feel captivated by wanderlust, you can try to score some holiday flight deals or give these hacks a go. But if you have a specific trip in mind, take the advice of corporate and leisure travel advisor, Jason Villacres: "With any holiday travel, you must book early. Each month that passes, you lose your control of getting what you want, and instead, you get just what's left. And a great travel agent can help, too."
Panama
Ready to leave the snow in favor of sun, sand, and surf? Amy Brueckner, CIRE chief of staff, swears that Panama offers all the perks of a tropical paradise — sans the crowds.
"It's still under the radar but it's a great holiday destination that has good weather and isn't too long a flight," she says of the Central American country. "I recommend staying in Casco Viejo as opposed to the downtown area. There are lots of lovely boutique hotels and also houses/apartments that you can rent if you're looking for a little more space. There are so many bars, restaurants and cafes … it's very lively!"
Despite the temperate climate, Brueckner says there are "lots of kitschy but charming decorations around town" in the winter months. You can also eat on a dime with cheap fare like $1 beers and $1.50 street food servings of "the most delicious ceviche I have ever had." And there's one more thing that Brueckner's shares from her last vacation: "The fireworks on New Year's Eve are insane! The city sky was lit up."
Colombia
Fellow CIRE employee Villacres agrees that when it comes to warm-weather vacations, Central or South America is the way to go.
"The Caribbean is the norm where northern 'snowbirds' travel, which can translate to high prices and low availability," he says, suggesting a trip to Cartagena, Colombia, instead. "Sightsee, explore, be adventurous, hit the beach…and keep an eye out for Santa in a Speedo!"
He adds that this is one of those places that has something for everyone, from "lounging like a turtle all the way to zipping around like a cheetah." What's more, there are lots of varied landscapes. "These destinations have a lot to offer like jungles, rivers, treehouses, bungalows, city life, shopping, restaurants, and, let's not forget the beaches," he says.
Bora Bora
Michael Gallagher, co-owner of the travel blog Couple's Coordinates, says that this French Polynesian island is a romantic destination that's perfect for couples, whether you're seeking relaxation, adventure, or a little of both. In fact, he and his wife, blog co-owner Alexandra, got hitched here.
"Perhaps you can align this trip with your honeymoon, anniversary, or simply a nice romantic holiday getaway," he says. "Bora Bora provides the best of each — minus the snow — allowing travelers to lay on the beach with a drink and be beach bums one day, and conversely swim with sharks and play with stingrays the next day if you want to be a bit more adventurous."
Aside from lounging on the white sand and staying in stilted huts, tourists love to scuba dive in the surrounding turquoise lagoon that's filled with rainbows of tropical coral reef.
Japan
Ski bums who can't get enough slope time wouldn't dream of going anywhere but to the mountains.
If you're adventurous as both an athlete and traveller, consider heading to Asia for a world-class experience. "Niseko is an amazing ski town in Hokkaido, the north island of Japan," says Brueckner. "Niseko is a top ski destination known for its consistent, powdery snowfall."
And if you need a break from shredding the slopes? "Aside from skiing, there is a lovely town with great restaurants (amazing seafood), shops and a fun beer hall!" she adds.
West Coast
Luckily, if time or finances don't permit, there are plenty of gorgeous mountain destinations right here in the USA.
"Skiiers and snowboarders should stick to the northern hemisphere where the snow is best in November/December," advises Gallagher. "Destinations like Mammoth Lakes and Lake Tahoe in California are lovely options."
What's more, these winter hot spots offer plenty of lodging, shopping, and dining in the surrounding areas, not to mention awe-inspiring scenery. Plus, there's no better time to warm up by the fire with a mug of cocoa than after a winter's day in the great outdoors.
Germany
If you dream of getting enchanted by Old World charm in a faraway land, Germany is one of the most magical places to enjoy the festivities of the holiday season, according to Eric Hrubant, president and chief travel planning officer at CIRE.
"I was on a trip that started in a Bavarian town at Lake Tegernsee and stayed at The Althoff Seehotel," he says. "This is a destination hotel with an amazing spa and Michelin-starred restaurant. Nearby the hotel was a small Christmas market where I sipped glühwein [a hot mulled wine] and did some holiday shopping."
Martina Sheehan, travel editor at Orbitz, agrees that the legendary holiday markets are definitely bucket list-worthy. She describes, "At the Christmas market in Marienplatz, [Munich's] main square, you can shop stalls filled with handmade toys, wood carved holiday decorations, gingerbread hearts and more."
This is also a great way see — and taste — the local culture. "The market's a great way to sample traditional Bavarian foods, too," she continues. "The Rohrnudel, a sweet yeast dumpling sitting in a pool of vanilla sauce, is especially delicious but a mug of the hot spiced glühwine is always a must. The highlight for me here, though, was the Christmas procession led by a slim, papal looking Santa who would later be met by the Bavarian anti-Santa, the demonic Krampus."
Sheehan notes a more unconventional way to tour the sites. "A lot of travelers take in Germany's Christmas markets via river cruise," she says. "You enjoy multiple cities, gorgeous scenery and a festive onboard atmosphere."
The Netherlands
Esther Klijn, a CIRE leisure travel advisor, recommends another European location. Utrecht in the Netherlands is an up-and-coming destination that doesn't have the hustle and bustle of the ever-popular Amsterdam.
"It used to be just a college town, but has really grown in the last couple of years," she says of Utrecht. "Less than 30 minutes on the train from Amsterdam Central Station is this adorable village that has great holiday markets at Mariaplaats. [It has] tons of little tchotchkes and stocking stuffers."
Klijn explains that if you time your trip right, you can even experience one of the town's annual celebrations. "The Fonteyn Festival is a big wine festival that spans over three days, usually mid-December. There's not only wine, but food, live music, and cultural activities."
As another insider tidbit, she adds, "Instagram-worthy shots are the old Oudegracht Canal and the Christmas tree!"
East Coast
If cozying up by the fireplace with a glass of wine is your idea of bliss, head to a seaside town on the East Coast for a picturesque holiday that's straight from a postcard.
Aside from offering snowy scenery and quiet streets, Hrubant says that the winter months are a great time to take advantage of off-peak tourism (not to mention, this would make a great weekend getaway if it's not too far from home).
"Beach destinations in the winter are quiet, romantic, and an amazing value," he explains, and remembers one Thanksgiving where he bounced from Boston, Massachusetts, to Portsmouth, New Hampshire, to Kennebunkport, Maine, and finally up to Portland. "[I] did a little bit of shopping and easily made reservations at some hot-spot restaurants," he recalls, adding, "I stayed at five-star hotels at deeply discounted prices and there were no lines anywhere!"