This Weird Vacation Rental Will Make For The Most Instagrammable Trip, Ever
Airbnb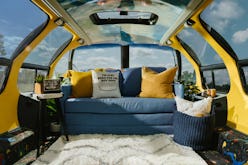 Everyone unplugs in a different way, and that can be made very obvious with the different types of getaways they take. For some, a bustling city full of activities and shopping is preferred, while for others a quiet, nature-filled escape is ideal. And such preferences also apply to where you choose stay, whether it be a luxurious hotel with all the amenities, a cozy Airstream parked near the coastline, or something — er — a bit different. And thanks to Airbnb, if you're in the latter category, there are a ton of weird vacation rentals offered on the app that can give you your most memorable vacation ever. No, seriously.
If you thought that treehouses, cabins, glamping tents, and houseboats were some of the most unique rentals Airbnb had to offer, think again. From homes made famous on television (hello, fantasy suite locales) and film to haunted cottages, and even a totally nostalgic wiener-on-wheels (more on that later), you might be surprised at how endless the options really are — even for the most niche guests. That said, if you're open-minded and looking for a totally out-of-the-box travel experience, read ahead to learn a bit more about seven wonderfully weird places you can rent now.
The Real Oscar Mayer Wienermobile, Illinois
You don't actually have to be a hot dog aficionado to get a kick out of staying in this 27 foot-long (pun intended) house on wheels. Located in Evanston, Illinois, the actual Oscar Meyer Wienermobile offers cozy accommodations for two and includes a fridge stocked with the brand's hot dogs along with Chicago-style accoutrements, plus custom hot dog-themed art and decor to make for some seriously special photo ops. Rates start at $136 per night and you can book here.
The Bachelorette Windmill, Greece
Yep, it's that windmill — the one where Hannah Brown and Peter Weber from The Bachelorette got a little, ahem, closer on a Fantasy Suite date in Nikithianos, Greece. But even if you're not a fan of the popular reality show, this rustic traditional windmill is the perfect place to stay if you're looking for a remote and totally unplugged getaway — literally, as you're not going to find Wifi here and you even have to step outside to find the nearest bathroom. Rates start at $56 per night and you can book here.
Seashell House, Mexico
This totally Instagrammable shell-shaped home on the teeny island of Isla Mujeres (near Cancun, Mexico) comfortably fits four guests, and besides the obvious joy you'll get out of staying in a place that's right out of a Disney film, there's a private pool, kitchenette, and parking space for your golf cart, the preferred means of zipping around on the island. Basically a dreamy way to experience Caribbean life. Rates start at $299 per night and you can book here.
Twilight Swan House, Oregon
Twilight diehards can have fun recreating some of their favorite movie moments in this 1930s St. Hellens, Oregon home where characters Bella and Charlie Swan lived. Feel free to bring the rest of your fanatic friends, since the house accommodates up to 10 guests in the five bedrooms. And if you're craving a little city life, too, Portland is just a short drive away. Rates start at $330 per night and you can book here.
Provence Cave, France
Built into a stone quarry in Provence, France, this home is pretty much the most chic cave dwelling imaginable. In addition to having an epic nature view, you can also enjoy a private pool and pool house with an outdoor shower included. Rates start at $168 per night and you can book here.
Haunted Historic Cottage, Georgia
Only those who aren't afraid of ghosts should book a stay in this historic 1799 guest house in Savannah, Georgia — which happens to be one of America's most haunted cities. Sure, it's located in the Landmark District, which means easy access to super charming shops and restaurants, thanks to SCAD's artistic community, but inside the home you'll feel totally transported to another time. The cottage's look and reputation (said to be haunted by haunted by "Laura," a previous inhabitant) also is the reason it was featured in Robert Redford's film The Conspirator. Rates start at $178 per night and you can book here.
Snow Igloo, Finland
Adventure seekers, this literal igloo in Pelkosenniemi, Finland is for you. And make no mistake, a stay here is dark and cold, so while the igloo offers cozy bed with sleeping bags, you'll want to come prepared. That said, guests have access to toilets, a shower, living room, and small kitchen inside a warm communal house on Lucky Ranch horse farm. You'll also have some incredible nature to see, thanks to nearby lake Pyhäjärvi and Pyhä-Luosto National Park. Rates start at $123 per night and you can book here.