This Street Style Trend Is Already Taking Over Milan Fashion Week
Darrel Hunter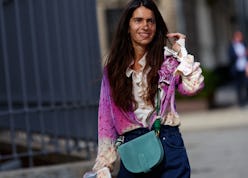 Fashion Month started off on a quiet note. In New York, shows were mostly streamed digitally, with many designers deciding to opt out this season. Influencers, editors, and buyers tuned in on their laptops from their apartments, while trading their heels in for slippers. In London, things picked up a bit, with attendees taking the streets in sleek trench coats and grungy combat boots to attend the limited amount of physical events. But now in Milan, everything feels a bit more like seasons past (with the addition of face masks). Case in point: the the best street style from Milan Fashion Week Spring/Summer 2021 in all its loud, lens-capturing glory is a testament to the fact that delightful style hasn't gone anywhere.
Though in Milan it's a mixture of in-personal and digital shows, the streets of Italy are still buzzing with can't-miss outfits. And with heavy hitters like Prada, Fendi, Versace, and Marni still presenting this season (Gucci and Bottega Veneta will be deeply missed), attendees will likely arrive wearing extravagant ensembles from the designer. Plus, as Raf Simons showed his first collection after being appointed co-creative director for Prada, attendees (including those at home around the globe), are expressing their excitement through their attire.
Trendsetters in Milan are known for taking risks in the style department, so appropriately, show-goers took the streets in funky, eye-catching prints, and blinding neon hues. Some went all out with head-to-toe color, while others decided to add just a pop through a handbag or shoe. If you've been in a style rut during quarantine, the Milan street style is just what you need to spark creativity again.
Below, find the best street style looks from Milan Fashion Week, captured by Darrel Hunter. Make sure to keep checking back for updates, the festivities go on until Sept. 28th.
Milan Fashion Week Spring/Summer 2021 Street Style: Day 5
Try styling a tailored suit with edgy combat boots for an of-the-moment look.
Layered blouses may seem like a cumbersome choice, but this look proves it works. Tuck into jeans with one blouse unbuttoned so the second shows beneath.
A quirky graphic sweatshirt instantly livens up your polished pieces.
Caro Daur embraced the chunky chain bag trend, styling a Bottega Veneta Pouch bag with a turtleneck and leather pants.
Tamu McPherson wore a Boss suit to the Spring/Summer 2021 show, adding a luxe touch with a gold statement necklace.
Evangelie Smyrniotaki and Tiffany Hsu chose to play with the contrast between sleek black and bold red.
Feathery fringe adds an element of texture to a bright turquoise suit.
A belted bag worn over the shoulders brings an all-black look together.
Coordinate your sneakers and suit for a not-too-dressed-up look.
Shoe designer Amina Muaddi wore a Valentino dress and her label's heels.
A floral embroidered jacket adds contrast when paired with edgy platform boots.
Milan Fashion Week Spring/Summer 2021 Street Style: Day 4
Embrace fall trends by coupling a plaid jacket with a checkered knit top.
Mix and match neutral pieces together for a cool combination.
If you're new to prints, start with a tie-dye tee and zebra bag. Ground the patterns with a leather jacket.
Anna Dello Russo wore a three-piece Gucci suit with a chunky statement necklace.
Try out an oversized fringe statement bag with a leather jacket and boots.
This attendee arrived to the Philosophy show in the brand's dress and metallic silver boots.
Erika Boldrin combined a mini dress and over-the-knee boots for a playful combination.
This attendee makes the case for sports bras and bike shorts — just add on a chic button-up and you're good to go.
Try semi coordinating, by styling pieces in similar fabrics and not-quite-the-same colors together.
Amp up your accessories game by wearing a tie over your favorite sweater vest and top.
Jeans and a pair of chunky platform boots is a '90s-inspired look to try.
No need to break up with your favorite quarantine sweatshirt. The loungewear staple looks polished when styled with a blazer, mini skirt, and heels.
A puff-sleeve jacket allows for lots of room to layer underneath.
Milan Fashion Week Spring/Summer 2021 Street Style: Day 3
Continue wearing your favorite summery white separates through fall by adding a leather jacket.
Embrace the transition from summer to fall with a striking floral fringe dress with a black blazer.
This attendee's cutest accessory was her pup.
Don't retire your slip-on sandals just yet. Wear them a little longer with knee-high socks.
Elie Delphine wore an '80s inspired tracksuit combination. She kept her accessories centered around the same color scheme, finishing with a Loewe Puzzle bag.
Another way to add a small pop of color to a more pared-back look is via a mask.
Take advantage of the early fall temps with a lightweight sheer jacket. This attended coordinated hers with a matching checkered set and leather belt bag.
Milan Fashion Week Spring/Summer 2021 Street Style: Day 2
How many neon colors it too many? According to this show-goer, the more the merrier.
Switch out your go-to black tights for a pair with white polka dots. And instead of wearing them under boots, opt for loafers or sneakers.
Caroline Daur exhibited the fall way to wear your favorite shorts — with cozy staples. Pair the bottoms with a black peacoat and white button-up.
Elie Delphine tucked her rich velvet pants into a pair of staple knee-high boots.
A knit dress and rain boots may not be a usual go-to combination, but it works.
Instead of a black or beige suit, try leopard print or a bold color. Brogues and a t-shirt add a more casual twist.
Ready to get creative with layering? Try a dress over pants.
Bottega Veneta's Puddle Boots from the Fall/Winter 2020 runway made their way to the streets.
This attendees opted for two different shades of khaki green for a cool contrast. She rounded out her monochromatic getup with Bottega Veneta's Tire Boots.
Tamu McPherson stopped outside a newsstand dressed in a blazer with a slip skirt, slouchy boots, and a chunky chain necklace.
Fringe was a standout trend shown in collections for Fall/Winter 2020, and this attendees displayed how to the wear the look IRL.
This show-goer co-signs the bras as tops trend that took off this summer.
Milan Fashion Week Spring/Summer 2021 Street Style: Day 1
This show-goer proved two quilt pieces are better than one.
White on white on white with a pastel bag is a visually pleasing soft color palette. Adding on a sweater vest is an easy way to embrace the of-the-moment fall trends.
Designer embroidered masks were a new accessory for SS21.
A lesson in how to ground a girly floral dress with menswear-inspired pieces like a suit vest.
A round of applause for this attendee who rode a bike in slinky Bottega Veneta heels. (Don't try this at home.)
Remember the tucking trousers into boot trend that took off last year? Exciting news: It's back. The styling technique looks ultra-cool with leather.
Animal print is out to play on the streets of Milan. This attendee wasn't shy of incorporating three different leopard pieces in her ensemble.
This guest chose a sleek all-black leather look on the streets, but she kept things interesting with a bright magenta bag as one punch of contrast.
This show-goer livens up the streets of Milan in a vivid pink and green coordinated outfit.
Neon orange and royal blue might seem like an odd duo, but this attendee proves otherwise. Plus, she exhibits how to wear two different shoes without looking like you just ran out of the house confused.
Loafers make for great fashion week shoe and can easily dress up jeans or trousers. For an of-the-moment take, try adding tall socks.
If you're more of a minimalist, a neon heel is an easy way to add a touch of color to your neutral look.
This guest demonstrates that a white tee can be dressed up with the right add-ons. Style with sleek trousers, a suede bag, and strappy heels for a cool ensemble.
Evidence that over-the-knee boots are worth investing in this fall.
This article was originally published on