The Controversial Shoe Trend Fashion Girls Can't Stop Wearing
Silvia Olsen/Shutterstock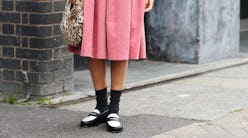 The loafer has long enjoyed its status as a classic footwear staple, but rarely does it connote anything trendy or exciting. The footwear of choice for grandpas, private school students, and certain young British royals, it's the kind of shoe you'd probably describe as practical, if not a bit stuffy. But that image seems to be shaken up as of late, with menswear slip-ons reemerging on the fashion scene as a decidedly chic option. Specifically, the loafers and socks trend is how It-girls are wearing this shoe anew. There was a time when this combination would've been unthinkable, but now the appealingly dorky pairing is becoming the look du jour.
The socks-and-loafers pairing can feel very retro. There's the '50s collegial prep reference, but perhaps more relevant is its tie-in to the triumphant return of all things '80s this year. That said, there are plenty of modern ways to wear this couplet. Take cues from today's fashion muses and branch out beyond the penny loafers and white bobby socks look. Thicker sport socks add a cool-girl touch to traditional styles, like Bass Weejuns and Gucci's signature horsebit flats. For something a bit edgier or less casual, try adding patterned socks to the mix, or look for moccasins with of-the-moment elements like patent leather, Mary-Jane details, or chunky lug soles. Here are 10 examples to inspire your socks-and-loafers formulas and the outfits to wear them with.
Heeled Logo Loafers + White Bobby Socks
For a subtle update to the classic combination, wear thin white socks but with a heeled loafer featuring subtle hardware instead of the standard flat penny loafer. Complete the rest of your outfit with elevated basics like a boxy blazer, simple tee, and vintage blue jeans.
Color-Block Mocs + Slouchy Socks
If you're a fan of the prairie dress trend that's dominated over the last year, consider accessorizing with loafers. Graphic color-block mocs and slouchy socks help to make a frilly frock feel a little less precious and girly.
Horsebit Loafers + Sport Socks
Horsebit loafers are as traditional as they come — but add sporty ankle socks and suddenly they're right at home in today's athleisure-centric landscape.
Studded Loafers + Patterned Knee Socks
Give the prim schoolgirl uniform an irreverent makeover with bold-patterned knee socks and studded slip-ons. A subdued neutral palette will avoid it looking kitschy.
Sleek Patent Loafers + Black Socks
Keep it sleek in a black-on-black set. For this, shoes with modern details like shiny patent leather, clean lines, and pointed toes are ideal. Follow suit with the rest of your ensemble.
Bold-Hue Platforms + Matching Socks
Complete a vintage-inspired outfit with platform loafers in a standout hue and color-coordinated socks to match. This is the perfect opportunity to play around with retro prints like plaid and argyle.
Sleek Slippers + Crew Socks
Sleek buckle flats and sporty crew socks are the sort of unexpected pairing that fashion girls love. Lean into the quirky appeal of this footwear duo, à la Veronika Heilbrunner, and wear with something surprisingly dressed up, like a velvet or satin dress.
Men's Dress Shoes + Low Socks
Embrace your inner tomboy with classic menswear elements from head to toe. A loafer that looks like something your dad would wear to the office, plus dark socks, an oxford shirt, and tailored trousers is a look that never goes out of style.
Mary Jane Lug Soles + Ruffled Socks
Chunky lug-sole loafers are all the rage lately, particularly those with girlish Mary Jane-esque details. Wear them in black with ruffle-trimmed socks and bare legs for an edgy update to the babydoll look.
Blocky Loafers + Stripe Socks
Let your feet make the statement in a pair of block-heeled multicolor loafers and striped ankle socks, while leaving the rest of the look hyper-minimalist.