Amazon's Top-Selling Pressure Cooker Makes For A Genius Holiday Gift — No, Really
united photo studio/Shutterstock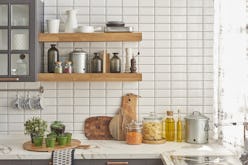 Sure it's always fun to get something totally indulgent and beautiful as a holiday gift — like a highly-coveted designer handbag or a skincare product that promises a red carpet-worthy glow — but functional, practical gifts shouldn't be overlooked or underestimated either, particularly those designed for the kitchen. And when it comes to the weird-yet-wonderful items you never knew your cooking space totally needed, no one has the market covered better than everyone's "Prime" online retailer. That's right, Amazon's best-selling kitchen appliances tend to be problem-solvers and multi-use products that you might not even know exist yet.
You probably already know the benefits of, and perhaps already possess kitchen tools like a colorful Le Crueset dutch oven or the tried-and-true KitchenAid mixer, but what about a snap-on silicone strainer or an electric gadget that takes all the guesswork out of perfectly poaching an egg (which is an elusive art form, really)? Such handy little devices can be game-changers in the kitchen, so they ought to be under consideration as gifts for the foodies and hostesses in your life.
They may not be necessarily qualify as chic kitchen decor, but the products ahead are some of Amazon's best-selling gadgets to help anyone boil, bake, chop, simmer, and otherwise breeze through a multitude of kitchen tasks with ease, no matter your level of expertise — and a gift that makes your life easier is one that anyone can appreciate.
A pressure cooker is a must for any passionate home chef — as well as anyone who's short on time for cooking. Besides being brilliant at braising meats in record time, this gadget also acts as a slow-cooker, utensil sterilizer, yogurt maker, rice cooker, and more, so you'll get a lot of bang for your buck.
Save space on bulky colanders and strainers with this small, flexible silicone strainer that can snap onto any pot you've got. But even though it's super lightweight, it's built to withstand even bulkier items you're boiling, like eggs and potatoes.
Some cultures believe it's bad luck to buy your own knives, which is why a set always makes a great gift. This stainless steel one (which comes with a cool, see-through acrylic stand) includes every kind of knife a cooking enthusiast could need, including ones for paring, bread slicing, meat carving, and more.
Eggs are deceptively difficult to make, considering how easy they are over or undercook. This little device makes poaching, hard boiling, and soft boiling a cinch with a built-in timer, so you won't have to watch the boiling water like a hawk. Plus, you can cook seven at once for those times you're making breakfast for a crew.
Silicone mats are essential for perfect baking, since they ensure your cakes, cookies, toffee, or whatever else you're whipping up won't stick to the pan. And that means your clean up will also be a breeze.
Starbucks ditched their plastic straws for environmental reasons, and you can, too — but if you love your daily iced coffee/tea and don't want to ruin your lipstick, these reusable, stainless steel substitutes are the perfect solution. This set also comes with two handy brushes to keep them clean.
Another life-saving tool is this vegetable/onion chopper that will cut your prep time in half.
A cast iron skillet is essential for culinary aficionados, but oftentimes it can be a process to "season" them (which helps them develop a non-stick finish). This one has already done the dirty work for you, so it's ready to use.
Keep up to 30 spices on-hand, yet out of the way with this organizing rack that boasts pull-out drawers that make it easier to find the one you need in a flash.
No more fumbling through drawers and cabinets to find the proper pan for whatever dish you're cooking; this rack keeps them all organized so they're easy to find when you need them.
These pot clips help keep your kitchen countertop tidy by holding your spoons and other cooking tools in place on any pot or pan. That way they're easily accessible, but not making more of a mess.
This dish-scrubbing brush stays germ-free with gentle, non-porous bristles and a design that allows you to store it upside down on the edge of your sink, so it dries quickly after cleaning.
Chop veggies and garnishes easily (and safely) with this tool that's as simple to use as a pair of scissors. It also has a built-in mini cutting board so it can save space in your kitchen.