These Holiday Cooking Must-Haves From Le Creuset Are On Sale At Sur La Table Right Now
Le Creuset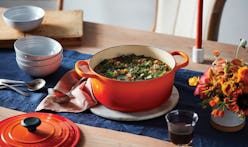 It's almost that magical time of the year... when you realize you don't actually own a turkey pan. Or a Dutch oven. Or anything cast iron. Rather than pick up another year's worth of flimsy tin foil baking trays (that'll probably be tossed after the holidays), invest in quality kitchenware from the Sur La Table cookware sale.
Le Creuset, All-Clad, and more cookware brands are up to 70 percent off during the Sur La Table sale, and with holiday entertaining right around the corner, the deals are too good to pass up. Give yourself an early holiday present and make this the year you don't have to whip out a calculator and resize Pinterest recipes to fit your one small casserole dish.
Anyone that's cooked a heavy turkey in a tin foil roaster tray knows how nerve-racking sliding the fragile tray out of the oven can be. Eliminate that struggle (and go a little greener) by buying a sturdy, reusable roasting pan. Lucky for you, the 16" by 13" stainless steel All-Clad roasting pan is included in the Sur La Table sale; Originally $179.95, the pan is on sale for $129.96, and comes with a nonstick rack to keep your bird standing tall. If you're worried you won't be able to stick the heavy duty stainless steel tray in the wash with the rest of the holiday dishes, All-Clad made this pan dishwasher safe.
This sale has cookware that will last you well beyond holiday season, too. Originally $324.95 and now just $199.96, the famous Le Creuset Dutch oven earns its glowing reputation. The oven is made of enameled cast iron, with a white color inside to easily see how far along your dish has cooked, and Le Creuset's signature colorful exterior for a gorgeous table presentation. What you present your holiday dish in certainly isn't as important as how it tastes, but putting this impressively deep, richly indigo Dutch oven out on your table won't lose you points.
If you prefer a gorgeous oven that doesn't hide its cast iron interior, go with a Staub. The French brand takes pride in creating beautiful heirloom pieces like this intricately designed 3.75 quart Staub Positano Oven. The oven's original $299.95 price might have barred you from buying it in the past, but during the Sur La Table sale you can get the luxury piece for only $179.96. Use it on a stovetop, in the oven, and then to take your dish to a friend's for dinner — this versatile piece will have you making up excuses to host potlucks.
For the chef on a budget, Staub's smaller cast iron pieces are also on sale. Until the Sur La Table event ends, you can score this durable $64.95 Staub Black Mini Roasting Dish for $51.96. Use it to make all of the holiday breads you could ever want, with perfectly browned edges that'll impress anyone lucky enough to get a bite.
Sur La Table has marked that the sale will end after the weekend, so don't delay ordering the colorful cookware or a handy roasting pan. Below, 10 of the best pieces included in the Sur La Table cookware sale to snag before it ends.