This Big (And Expensive) KitchenAid Food Processor Is On Sale At Sur La Table Right Now
Sur La Table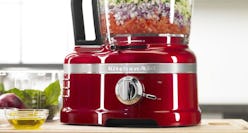 Owning a food processor is a secret weapon during holiday party season. They turn hours of food prep work into minutes, so you can actually spend your time relaxing with loved ones. If you haven't invested in the kitchen workhorse, check out Sur La Table's huge electronics event, which includes KitchenAid products on sale. One of KitchenAid's best — and very expensive — food processors is marked down, along with a bevy of KitchenAid appliances that will make hosting your next dinner party a breeze.
The hype around KitchenAid is completely merited. Originally retailing for $179.95 and on sale for $143.96, the KitchenAid 9-Cup Food Processor has a near five-star rating on Sur La Table's website out of over 60 reviews. Fans note that the nine-cup size is perfect for larger scale food projects, like canning or preparing for a party. Reviewers also say that it runs quietly — a huge plus for anyone that's experienced the struggle of a screaming food processor. The food processor is outfitted with bonus features to save you even more time, like an externally-operated lever for changing slice thickness and five separate blades to tackle any recipe thrown your way.
The Sur La Table sale, which includes over 200 small kitchen appliances for up to 55 percent off, ends on Oct. 30. While the famous KitchenAid Stand Mixer isn't included, some of the coolest accessories for the mixer are, like the KitchenAid Flex-Edge Beater. Reduced to $23.96 from $32, this is an affordable must-have for anyone making sticky desserts in their stand mixer. The silicone edge of the beater scrapes the bowl as you mix, making stopping and starting your mixer to push cookie dough off the sides a thing of the past.
Not a fan of baking? The ability of KitchenAid's Ice Cream Bowl Attachment to turn the stand mixer into an ice cream machine gained it a cult following, and you can buy the originally $79.95 five quart attachment for $63.96 during this sale.
Other established, expensive kitchen brands are also included in this sale, like All-Clad, Cuisinart, and Krups. Though all great brands, a sale on All-Clad is something that needs to be taken advantage of, and the brand's beloved All-Clad Prep & Cook is marked down from $999.95 to $799.96.
How can any kitchen electronic originally retail for almost $1000? The All-Clad Prep & Cook operates like a food processor with an ability to chop food for easy preparation; it's also a stand mixer, with settings for whipping, mixing, and stirring. The appliance then can cook your food, with options for traditional cooking, slow cooking, stir-frying, steaming, and more. And just in case that hasn't sold you: it can also crush ice.
There's a deal for everyone in Sur La Table's electronics sale, whether you want to buy every KitchenAid appliance you've had your eye on for years or invest in a Prep & Cook to make dinner guests think you've become Giada De Laurentiis. Below, 11 kitchen appliances certain to make your next holiday party a hit.