6 Wines From Target That Make Amazing Hostess Gifts
Africa Studio/Shutterstock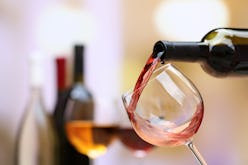 It goes without saying that Target is a life-saver for many shoppers when it comes to finding everything you need under one roof, while still managing to stay within a reasonable budget. With offerings of affordable clothing lines, home furnishings, electronics, gifts, groceries, and more available to be scooped up in just one shopping trip, many people count on the mega retailer to pick up everything they need for the holidays — and that includes booze. And wines from Target are nothing to scoff at; even experts can acknowledge that the retailer's selection offers a handful of truly great options for gifting or sipping yourself this time of year (and all year round, to be honest).
Sommelier Heidi Turzyn, who has directed wine programs for Gotham Bar and Grill in NYC and Three at Wynwood in Miami and acted as Beverage Director for acclaimed chef/restaurateur David Burke's restaurant group, certainly knows her stuff when it comes to wine drinking and shopping. Some may assume that means she only picks the priciest bottles. But actually, the expert knows that a high price tag doesn't necessarily constitute a truly great wine — and vice versa.
In fact, there are tons of fantastic wines available at your favorite grocery stores and big-name retailers and plenty of them cost less than you think. To help you find some of the best bottles for giving as hostess gifts, complementing your holiday meal, or just sipping solo while marathon-ing your favorite reality shows, Turzyn has suggested six bottles — including white, red, and bubbles — you can find at most Targets right now.
Kung Fu Girl Riesling
Despite the fact that many people often pick a bottle based on aesthetics, a really cool label typically has no bearing on the quality of wine — but in the case of this Washington state riesling, you can have both. In fact, Turzyn suggests starting off your holiday meal with a glass. "Kung Fu Girl Riesling is a nice aperitif," she explains. "I often enjoy sipping on a glass of riesling to start an evening off. This wine is un-oaked and clean on the palate with notes of white peach, apricot, and citrus and a bright acidity which balances the touch of sweetness leading to a crisp finish. This wine is very much a crowd-pleaser."
Pine Ridge Chenin Blanc
Pine Ridge Chenin Blanc/Viognier is another great white wine option for your holiday festivities this year. This blend of varietals from Clarksburg Wine Country in Northern California offers a great balance of fruit and floral notes (think jasmine and honeyed pear) and boasts a brightness that your pinot grigio and sauvignon blanc-loving friends and family will appreciate while trying something slightly different from their standard go-to.
Alamos Malbec
Alamos Malbec is a classically Argentinian wine, which means you can expect intense fruity flavors and a velvety mouth feel, thanks to the area's climate and conditions (high altitude, cool temps). For under $10, this bottle makes a great option for serving with hearty holiday dishes, like roasted meats and root veggies (pro tip: salads and fish won't fare as well).
La Crema Pinot Noir
Just as the aforementioned wine is great for those heavier dishes you'll be enjoying this season, a good pinot noir is ideal to have on hand for seafood, cheese plates, and other lighter bites. And La Crema Pinot Noir from Sonoma is a reliable option for these needs. "Pinot Noir works very nicely with Thanksgiving dinner," Turzyn explains. "This wine will be light in body and dry on the palate with notes of ripe fruit, red cherry, cranberry and raspberry."
Nicolas Feuillatte Brut Champagne
If you want to enjoy a bottle of champagne, but you've only got about $30 to spend, Nicolas Feuillatte Brut should fit the bill nicely. The blue label brut has a rich and creamy mouth feel and subtle flavors of nuts and fried fruits with a little lemon-y brightness. Since this is an aperitif style champagne, it's perfect for drinking before you feast.
Veuve Cliquot Yellow Label
If, in fact, you do have a little more to spend on a bottle of bubbles, Veuve Cliquot Yellow Label Champagne is always a reliable option, and it's available at most Target stores. "Bubbly is a must and Veuve is a staple," Turzyn says. "It's refreshing and complex with notes of citrus, almond, and brioche. A perfect celebratory glass."