Keep These Pro Tips In Mind When Shopping For Home Decor On Black Friday
New Africa/Shutterstock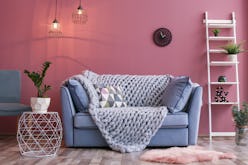 Thanksgiving is a time to connect with friends and family over good food — but let's face it, it's also a date that many people start getting serious about their holiday shopping, thanks to the fact that the biggest retail day of the year occurs immediately after. A lot of shoppers already know that Black Friday is a great time to get deals on electronics, appliances, and other big ticket items, but if you're savvy, you can also apply some expert Black Friday shopping tips when hunting for chic home decor items (which can be a bit harder for spotting the worthwhile deals).
Journalist and smart shopping expert Trae Bodge of True Trae is a pro at finding the greatest deals year-round, so of course she knows the ultimate ways of getting the most bang for your buck during these pre-holiday sales. "This shopping weekend can be overwhelming and chaotic, which can cause even the savviest shoppers to make rash decisions, purchase impulsively, and even overpay," she warns. But by following a few key tips, you can save on all your Black Friday purchases, including a slew of stylish interior pieces.
Even if your favorite retailer has yet to announce their annual blowout, there are a few surefire ways to make sure you're getting the best price possible. Ahead, find Bodge's best advice for stocking up on decor goods this Black Friday.
Get This Key App
You probably already know that there are a ton of apps that promise to help you save a few bucks. The question is, which ones are worth it? According to Bodge, start with Flipp. "Flipp is a free shopping app for iOS and Android that gives you all the Black Friday circulars, the best sales and a handy shopping list — all in one app," she shares. Once you've downloaded it, get the best use out of the app by starting to plan exactly what items you're hoping to snag. She advises, "Make a shopping list for holiday gifts to decorative items for your home, and this app will help you find you the best deals at your favorite stores, like Walmart, Target and JCPenney."
Find Your Online Deal Basecamp
The days of waiting in crazy long lines to get the best Black Friday deals is no longer. "If you'd prefer to shop at home in your PJ's, use the Black Friday and Cyber Monday pages on Slickdeals to find all the best deals in one place from home décor favorites, like Macy's and Kohl's," Bodge recommends. "Deals are vetted by 11mm deal-seekers, so you know they're legit. If you have your eye on something pricey, set a deal alert for it. That way, you'll be notified when it's time to pounce."
Never Underestimate Amazon
You're probably already shopping Amazon regularly to find the best prices on everything from tech gadgets to lingerie, but there's actually a way to take it up a notch and save even more with the mega retailer. "There's a nifty tool called RankTracer, which provides pricing data for countless products sold on Amazon, including tons of holiday-related items, like gifts and decor," Bodge offers, "This tool will give you a sense of whether you should buy now or wait."
Create Your Own Sale
Don't get stressed if that decor piece you've got your eye on hasn't been discounted for Black Friday — there may be some secret ways to save. "If you're not happy with the decor deals you're finding, create your own sale or sweeten an existing sale by shopping with discounted gift cards," explains Bodge, "The best place to find them is on the GiftCardGranny site or app and you can save anywhere from two to 30 percent on average."