These Are The 10 Most Pinned Winter Destinations Right Now
Gail Johnson/Shutterstock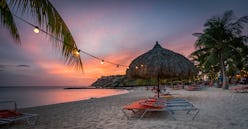 Millions of people regularly turn to Pinterest for inspiration for everything from their next major haircut to how they'll strategically arrange their holiday table setting. That said, it's also a great platform for daydreaming — and there's arguably nothing better to fantasize about this time of year than a truly relaxing winter vacation.
Pinterest is a veritable litmus test to see what the general public is into, and travel is no exception. A veritable mecca of stunning imagery, the platform makes even the most commonly known and familiar locales look totally fresh and aspirational. So, if you're in search of your next vacation destination — whether it be a picturesque place to spend the holidays, a cozy cabin, or a solo-friendly spot on the globe — there's no better place to check out gorgeous snapshots of far-off cities and have you mentally planning every last detail.
So if the holiday stress is getting to you and you're ready to get a trip on the books to set your mind at ease, take a page — er, pin — from Pinterest's book. The site has compiled a list of the most pinned places for winter getaways, and they range from the beach bum favorites to old world charmers. Ahead, find the top 10 destinations Pinners are lusting after for winter vacations now.
Tuscany
There's good reason searches for the Italian region have surged 1657% on Pinterest of late; scenic landscapes, Renaissance art and architecture, and truly great food and wine (hello, truffle pasta and white bean stew!). What's not to love about the idea of visiting stunning vineyards and strolling through a sincerely charming city this time of year?
Paris
The city of lights is a favorite destination year-round, but now that the holidays are approaching, searches for Paris have increased by a whopping 1340%. It's tough to name everything that makes this destination an ideal getaway, but just a few include checking out iconic landmarks like Notre Dame and the Eiffel Tower (you can skate up to it in the winter!), shop Montmarte's Christmas market for goods, check out the winter wonderland attractions and performers at Musée des Arts Forains, and peruse historic works of art at The Louvre and Musée d'Orsay. Additionally, enjoying a cappuccino in the Champs-Elysées sounds pretty epic, too.
Co Co Cay, Bahamas
Fifty-five miles from Nassau, this Caribbean island will give you the perfect respite from winter weather — which is probably why this spot has jumped up 841% in searched on Pinterest. Though it's a bit cooler this time of year, you can still expect an average of 79-degree days during a stay here, which means you'll still be able to soak in some sun while sipping a tropical cocktail. And, honestly, what more do you need?
Czech Republic
The historically rich country is up 723% in Pinterest searches, and that can probably be attributed to the wealth of options to see and do during a stay here. In the capital city of Prague alone, you can cruise the frozen-in-time Old Town Square, take a scenic walk over the Charles Bridge (built in the 14th Century), visit a legit castle, and enjoy your fair share of potato dumplings and brew.
Portugal
If you're eyeing this southeastern European country as a winter getaway — like an increasing number of you are evidenced by the 594% increase in Pinterest searches — this should help give you incentive: The capital of Lisbon alone is full of interesting things to do, including sightseeing at the historic Belem Tower, taking a tram ride through town, and visiting significant works of art at The National Museum of Ancient Art.
United Arab Emirates
The Arabian nation (especially the city of Dubai) — which always draws plenty of interest for its juxtaposition of modern city life and ancient traditions — is searched 500% more this time of year as a winter vacation option. This is a great escape for retail enthusiasts (the shopping is arguably bar none), but you can also wander the desert on camel, check out the Miracle Garden, and even ski indoors year-round inside one of the world's largest malls.
Curaçao
The Dutch Caribbean island is being searched 434% more this time of year, and the majority of that is probably those looking to escape their snowy surroundings. And you can do exactly that here, while indulging in warm weather activities like boat rides through the sea, snorkeling, scuba diving, and relaxing on white sand beaches.
Norway
For more of a classic winter weather escape, this Scandinavian country is a no-brainer, and those kind of cozy vibes are likely why searches for Norway recently went up 376%. In Copenhagen, you can visit a number of Michelin star eateries, visit the Tivoli Gardens (perfect to see during the holidays), visit the shopping destination of Strøget, and sip brews in traditional beer houses.
Budapest
It may come as a surprise that Hungary's capital city makes the top 10 most Pinned places for a winter vacation, but recently it's being searched for 322% more. Perhaps those Pinners know Budapest offers a plethora of memorable things to do, like taking in a soak at the Gellért Baths, walking along the Danube promenade (where you can get the most epic city view), and see historic landmarks like St. Stephen's Basilica and Fisherman's Bastion (among many, many others).
Philippines
The 306% increase of searches for the southeastern Pacific islands could probably be credited to the lush landscape and climate (which is a bit cooler than its usual balmy temps this time of year). For those thinking of a vacation to the Philippines this season, some things to consider include a visit to the historic heart of Manila, laying on the white-sand beaches of Boracay, trekking to the stunning Banaue Rice Terraces, and observing an active volcano at Mount Mayon.