This Picturesque Vacation Was Practically Made For Single Women In Their 30s
Ditty_about_summer/Shutterstock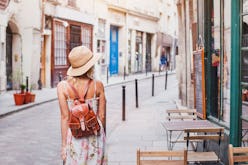 Practically everyone's bucket list contains at least a few visits to destinations around the globe — whether that means grabbing an authentic deep-dish slice in Chicago or riding a camel in Morocco. And there are plenty of things that can prevent you from checking off those boxes, like budget, being nervous about language barriers, or fear of flying — but one thing that shouldn't deter you from visiting your dream destination is a reservation about traveling alone.
As amazing as it is to explore uncharted territory with a partner, friend, or family member in tow, doing it on your own can be one of the most rewarding experiences you'll ever have. Just ask Kelly Lewis, founder of Damesly — a boutique tour operator that organizes workshops for professional and creative women around the word — and the Women's Travel Fest, as well as the creator of Go! Girl Guides.
According to Lewis, there are plenty of reasons traveling solo is actually amazing. "Traveling alone shows you just how strong and capable you are," she says. "It helps you to see your power. Navigating public transport, successfully getting from point A to point Z, all the while having full control of what your day entails, is so empowering." And beyond the confidence boost you'll get from being completely self sufficient, going solo also means not having to answer to anyone else. As Lewis explains, "I feel the most free and the most alive when I'm traveling alone, because I'm only doing what I want to do. If I want to go to the beach, I go. When I'm done, I move on. If I want to eat dessert for lunch — I do! And I also find that even when I'm traveling solo, I almost always make friends wherever I go." If that's not motivator to book your next trip sans partner, then what is?
Although the ideal location for for solo travel adventure should be determined by your own personal preferences, Lewis points out that there are a few things to be considered. "First figure out what you're comfortable with," she says. "Are you ok with a language barrier? Do you have a taste for luxury or is exploring a new place by foot more important to you? Figure out what your priorities are, and start planning your destination around that." If you're looking for some inspiration, start with this list of places Lewis especially recommends for the single girl on her own. The rest is yours alone to imagine.
Helsinki, Finland
The shopping scene in Finland's southern capital is reason enough to take a trip here, but there are also state of the art saunas to visit, tons of exotic foods to eat (the focus on hunting in the region means lots of wild game like reindeer and hare as well as loads of seafood), and a funky city scene to take in.
Reykjavik, Iceland
Iceland's capital city has a reputation for being one of the safest places to travel in the world, which makes it an ideal destination for the solo single girl. Additionally, airlines like WOW make traveling here really affordable, and there are plenty of geographic wonders everywhere you look — not the least of which is the picturesque Blue Lagoon.
Wellington, New Zealand
There are so many reasons to travel to New Zealand in general, according to Harris, but the capital city has her heart for a few reasons. First off, you can explore the area in one of the iconic red cable cars while getting incredible views of the coastline as well as the city's colorful landscape. But besides that, Wellington is a great spot for solo travelers in particular because of its plethora of sweet shops and restaurants in close proximity.
Tbilisi, Georgia
Tbilisi is still a relatively hidden gem. If you're in search of a truly charming place to take in ancient sites, historic architecture, incredible foods (one of the area's signature dishes is khachapuri, a gooey, cheesy bread), and stellar wines, this is the place for you.
Buenos Aires, Argentina
For bustling, big city vibes, Buenos Aries is a great option for the solo traveler. Lewis points out that single ladies traveling here alone may want to stick to Recoleta or Palermo neighborhoods if you want to narrow your scope. Visitors to this metropolis can expect a vacation that's filled with festivities and relaxation, which can be attributed to the city's laid back sensibility.