10 Romantic Cabin Getaways For Couples Looking To Reconnect
AlexMaster/Shutterstock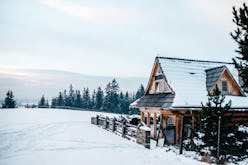 As fun as they are, the holidays can also be a majorly stressful time of year. Between shelling out all the cash, making plans for celebrating with family and friends, shipping gifts and cards out on time, and attempting to master the art of roasting a turkey, you've likely got a lot on your plate. And that stress can take a toll on your relationships, which is why the holidays are an especially great time to book a romantic cabin getaway for two — without all the seasonal interruptions. Yes, getting away with your significant other is a perfect opportunity to reconnect while you celebrate — and why not do both in a wintery respite?
As co-founders of the soon-to-launch travel service Noken, Marc Escapa and Emily Brockway have seen the surge of couple's vacations this time of year firsthand. Brockway says, "During the winter months, we see that many of our travelers are romantic partners, and a good number of them are either getting engaged while traveling or celebrating a recent engagement."
The two started their forthcoming endeavor because in addition to having backgrounds in the tech world, they're also major travel buffs. With Noken, they'll be offering curated trips with cherry-picked options for accommodations, transportation, and activities to choose from by way of an app, so they've picked up a wealth of knowledge on dreamy places for couples to stay — including cabins.
Just as glamping can be a great option for warmer months, cabins can provide an ideal opportunity to unplug and reconnect with one another in fall and winter. To help you do exactly that, Brockway recommends putting down the phones and other devices and turning to old fashioned entertainment for a fun way to interact. "Cozy cabins provide the ideal environment to ditch technology and pick up some games, like puzzles, cards, and Scrabble," she says. Additionally, you can further enjoy your romantic cabin getaway by packing a few other essentials to help you set the mood. "Travel candles, matches, and travel-sized massage oil are quick wins," she says
Knowing what to bring along is one thing, but a bigger decision to make is exactly where to stay. While the mere mention of the word often conjures up a mountainous, snowy landscape, not all cabins are created equal. From rustic A-frames in the woods to remote desert destinations, ahead find 10 different cabins that will make this winter vacation a memorable one for you and your mate.
"Cabin 71", Spicewood, Texas, United States