The Perfect Non-Beach Vacation Spots To Visit During The Holiday Season
David Prado Perucha/Shutterstock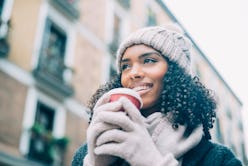 Regardless of their zip code, most people tend to fall into one of two categories during the holiday season: those who adamantly reject winter weather and those who fully embrace the cozy vibes it can offer. If you fall into the latter, this is about the time you feel the need to ditch the standard beach-y destinations for your pending winter vacation and opt for the kind of getaway that includes — but isn't limited to — snowboarding, ice skating, drinking hot toddies by a fireplace, and taking in a snowcapped mountain view from the privacy of a cabin in the woods.
As travel journalist and Oneika the Traveler blogger Oneika Raymond explains, "There's something about playing in the snow, cozying up to a roaring fire (with hot chocolate, of course), or walking through winter wonderlands that will make even the most jaded person get into the holiday spirit." And while the globe-trotter has been to destinations all across the world, she knows that some of the best winter escapes are right here in the United States — and there's a variety of vibes to choose from depending on what you're looking for in a seasonal destination. Ahead, find a few U.S. cities worthy of a winter getaway, including a few that are wholeheartedly recommended by Raymond herself.
New York City
There's just something quintessential about NYC in the winter, and it's a specifically good option for those looking to stay in a bustling city versus a more remote destination. "The Big Apple is exquisite to visit in the wintertime," says Raymond. "Go skating in Central Park or Bryant Park, take in the Christmas lights at Rockefeller Center or in Dyker Heights, and take advantage of winter sales when you go shopping in Soho or along 5th Avenue." Add on a frozen hot chocolate at Serendipity, and you've got a winter vaycay that dreams are made of.
Taos, New Mexico
On the flip side, New Mexico might not exactly be the first place that comes to mind when planning a snow-filled vacation, but Taos Ski Valley is a great getaway for winter sports enthusiasts. And in town, some of Taos' iconic landmarks — the Pueblo, the famously painted and photographed San Francisco de Asis church, the adobe homes, and Rio Grande River Gorge — are even more breathtaking when dusted with snow. It's a great alternative to traditional cabin-in-the-woods atmospheres.
Lake Tahoe, California
Set amid the scenic Sierra Nevada mountain range, this quaint spot that straddles California and Nevada is "great for families or adventurous travelers since there are so many things to do," says Raymond. Some of the top activities include skiing, snowboarding, and snowshoeing. And for those who are more interested in enjoying the snowy landscape from an indoor perspective, there's a lot to love about this town. "The aprés-ski scene is pretty decent," says Raymond. "And casinos are also a hop, skip, and a jump away for those feeling 'lucky'."
Breckenridge, Colorado
This former Gold Rush town at the base of the Rocky Mountains still has such a historic feel, which makes it ideal for those heading out of a hectic city in favor of a slower pace. It's tough to beat the skiing here, so winter sports lovers can reap the benefits of some stellar slopes, plus all the chalet vibes you're craving.
Fairbanks, Alaska
There's a ton of unforgettable aspects in store when you head north for an Alaskan getaway. As Raymond says, "There's loads to do in the U.S. northernmost state: Go glacier-hunting at Denali National Park, polar bear watching, or, if you're feeling extra adventurous, head even further north to do an Arctic Circle tour." And in particular, Fairbanks mentions the bonus view of the Aurora Borealis (Northern Nights) — if you're lucky enough to catch them. You're also a quick (and scenic) train ride way from Anchorage, where there's more of a city scene that's conducive to dining and shopping.
Jackson Hole, Wyoming
Besides cross-country skiing in the Grand Tetons, a trip to Jackson Hole affords you the opportunity to snowmobile up to Yellowstone (where you can snowshoe), take a dip in the Granite Hot Springs, hit up a classic Western watering hole, and check out a myriad of winter wildlife roaming around.
Provo, Utah
In January, the city comes alive with tourists who travel to town for the Sundance Film Festival — which in itself makes Provo an interesting place to visit (hello, celebrity sightings and film screenings!). But if you want to skip the Hollywood crowd, head here when it's not festival season and explore the city's food and art scene, ski, hike to Bridal Veil Falls, and soak up the epic Wasatch Mountains as your backdrop.