13 Skincare "Superfoods" That Are Actually Legit, According To Derms
Elemis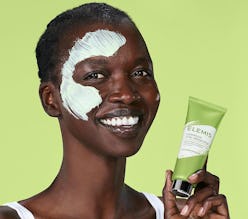 "Superfood" is the industry's favorite buzzword at the moment — Elemis has a whole Superfood range, health brand Golde recently launched Superfood Face Masks, Frank Body is releasing a Superfood Body Scrub on Jul. 20 — and it sounds nice, right? I mean, there's "super," which is, well, super. Then there's "food," which seems to imply natural, nutrient-dense ingredients, pure enough to eat. But… does the word "superfood" actually mean anything? And are superfood skincare products actually efficacious?
Experts say the term is basically a made-up marketing phrase; and — surprise! — brands can pretty much plop any ol' food into a skincare product and call it super. "It's quite a conceptual term, and there is no scientifically determined or regulated definition," Dr. Neil Sadick, a board-certified dermatologist with Sadick Dermatology in Manhattan, tells The Zoe Report. "The term superfood just refers to common food items that have high levels of valuable ingredients such as Omega oils and antioxidants." Again, what constitutes "high levels" is relative. The most prevalent superfoods are fruits and vegetables, with the occasional nut or seed, since they have more nutritional value than, say, cake.
That being said, there are some plant-based ingredients that dermatologists and nutritionists agree are super for you skin. Consider this your cheat sheet to expert-approved beauty "superfoods"... uh, whatever that means.
Flax Seeds
"Flax seed oil is rich in Omega-3 fatty acids, which can be found in the skin normally," Dr. Caroline Robinson, a board-certified dermatologist, tells TZR. "When used in a proper ratio and formulation, flax seed oil can have anti-inflammatory and anti-aging affects."
Papaya
"Papaya is a great source of the antioxidant vitamin C, which not only helps with free radical damage from the sun, but also has a brightening effect," Dr. Robinson says. "In addition, it contains an enzyme called papain which can help gently exfoliate the skin."
Cucumber
"Cucumber extract is rich in polyphenols and vitamins," Dr. Devika Icecreamwala, a board-certified dermatologist and founder of Icecreamwala Dermatology, tells The Zoe Report. "I recommend cucumber extract for skin under the eyes, because cucumbers are hydrating and soothing for the delicate skin."
Chlorella
Dr. Icecreamwala is also a fan of the blue-green algae chlorella. "It's high in antioxidants and vitamins, and is great in decreasing inflammation of the skin," she says.
Avocado
"Avocado is great for the skin as a food and as a topical," Serena Poon, a nutritionist and celebrity chef, tells The Zoe Report. "The healthy fats, in particular the oleic acid and linoleic acids, provide deep moisture for the skin cells and keep sebum balanced to prevent breakouts."
Blueberries
"Topping most superfood lists as a fan favorite, blueberries are high in powerful antioxidants, anthocyanins, polyphenols and phytonutrients that help fight inflammation, improve cognitive function, neutralize free radicals, and help to improve the signs of aging," Poon says. "Protection against free radicals can help prevent wrinkles, dry skin, and age spots. Blueberries also have a high concentration of salicylates and vitamin A, which can help balance the oil levels in the skin and can be effective for acne-prone skin."
Daikon Radish
"Daikon radish can help boost the skin's hydration, help fight off free radicals, and promote a beautiful balance," Noella Gabriel, the co-founder of Elemis, tells TZR. "It easily absorbs into the skin, reaching the lower levels of the epidermis to leave skin feeling soft, smooth, and supple." Dr. Sadick agrees and adds that even though radish seed extract is high in fat content, it's non-comedogenic — meaning it won't clog your pores.
Pumpkin Seeds
"Pumpkin seed oil is rich in vitamins, essential fatty acids, antioxidants, and sterols that can help protect the skin's lipid barrier," Gabriel says. By strengthening the skin barrier, pumpkin seed oil keeps aggressors out and moisture in; resulting in a clear, glow-y complexion.
Lucuma
"Lucuma is similar to avocados in terms of active ingredients," according to Dr. Sadick. "It has high levels of carotenoids, Omega oils, potassium, iron, zinc, calcium, and proteins. As an ingredient in any skincare regime, it has the potential to hydrate, protect, and increase collagen production."
Kale
"All dark green vegetables are powerhouse superfoods," Poon says. "Kale is one of the most nutrient-dense sources of antioxidants and minerals, as well as high levels of vitamins A, B, C, and E. With the antioxidants fighting off free radicals and vital Vitamin C-boosting collagen synthesis, kale is a key ingredient for improving skin elasticity and increasing skin cell turnover."
Mango
"Mango and its extracted juice are very high in carotenoids, vitamin C, vitamin E, and minerals such as copper and potassium," Dr. Sadick tells TZR. "These ingredients are beneficial in combating skin inflammation, increasing cellular metabolism and turnover, and preventing skin damage."
Broccoli Seed
"Rich in antioxidants, essential fatty acids, and vitamin C, broccoli seed oil nourishes and softens, leaving the skin looking healthy and glowing," Gabriel says. Dr. Sadick is on board with broccoli, too: "It seems to be an impressive ingredient that could protect the skin barrier, enhance collagen production, and prevent cellular damage," he adds.
Spirulina
"Spirulina is a microalgae, rich in antioxidants, fatty acids, and amino acids," Dr. Sadick says. "In skincare, spirulina can have anti-inflammatory properties, brighten the complexion, and encourage cell turnover."