All Hail Kale: The Beauty Products To Try Now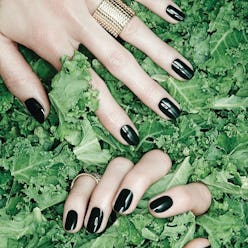 Another day, another menu with kale on it. And now the good-for-you green isn't just taking over our favorite restaurants and juice bars, it's made its way into our beauty cabinet. This is one determined vegetable. Maybe it was always just a matter of time before beauty brands started rolling out kale-infused products, but there is no doubt about it: That time has arrived. Before you rule this out as another marketing fad, you'll be glad to know the leafy green is just as beneficial to your beauty routine as it is to your diet. We rounded up several products that contain the ingredient and put its amazing attributes to work. It's official: The Kale revolution is here.
One of the most nutritious superfoods has finally made it into our beauty products. Now is your chance to soak up all the benefits of kale by adding a few new items to your routine.
Photo: @nailsinc
Foundation
Instantly perfect your complexion with a formula that delivers a flawless, lightweight finish while kale extract smooths the appearance of fine lines.
Nail Polish
Known for its high levels of Vitamins A, C and K, kale stimulates keratin production to hydrate and nourish nails (and don't worry, the colors aren't all shades of green).
Face Mask
Soak up all the benefits of kale with this weekly mask that brings new meaning to the term "skin food." Just add water to nourish, soothe and rejuvenate sensitive, irritated and inflamed skin.
Facial Serum
Increase collagen production in the skin by applying this serum daily to a clean face. Vitamins from kale improve tone and elasticity while being gentle enough for all skin types.
Body Serum
Rich in antioxidants, anti-inflammatory agents, calcium and loads of vitamins, kale absorbs into the skin and moisturizes. Switch out your daily lotions for a body serum during the winter.
Shampoo
Give your hair a healthy boost with a cocktail of kale, lemongrass and white tea. Purify with natural antimicrobial and antioxidant benefits while hydrating parched hair and dry scalp.