This Superfood Is The New Quinoa — And It's A Good One
Alena Ozerova/Shutterstock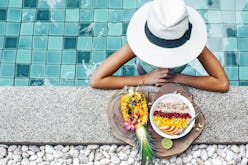 With such a focus on health and wellness of late — particularly at the beginning of a brand new year — it seems like everyone is looking for the next buzz-worthy ingredient to super-power their smoothie or give an added kick to their morning cup of coffee. And with so many people's current diets ditching wheat and/or meat in favor of plant-based foods that offer protein and fiber, one ingredient that's been touted as the new quinoa seems poised to be the next big (wellness) thing.
In addition to other 2019 wellness trends such as elderberries and maca powder, the chocho bean just might be the superfood name on every heath nut's lips. And while it's decidedly having a moment in the wellness community, this legume — also known as Andean Lupin — already has a long history for its benefits. According to Mo Clancy, co-founder and chief creative officer of Five Sun Foods (a brand that will be launching a chocho bean powder later this year), "Chocho has been a staple crop in the Andean region of South America since pre-Incan inhabitants discovered its incredible value over 1,500 years ago."
The buzz around chocho bean these days is largely thanks to its impressively high protein content. In fact, Clancy shares that, "It is the only commercially cultivated lupin with a higher protein content than soy." And that's not the only health benefit. "This mighty Andean Lupin is also a low glycemic-index (GI) nutritious food — meaning it doesn't spike blood sugar and may even help to limit increases in blood sugar," she adds. "It is high in protein, fiber, with healthy fats and has little-to-no starch (meaning no net-carbohydrates)." Because of this, it happens to be a great addition to low-carb, low sugar diets like Keto and Paleo.
Besides what it does have, there's one thing the chocho bean doesn't have, but that will only make you want to try it more. "Chocho has negligible amounts of anti-nutrients so, compared to other legumes such as chickpeas, lentils, soy and black beans, it doesn't cause bloating and gas — in other words, easily digestible," says Clancy who mentions that the Five Sun Foods team likes to refer to it as the "bean-free bean." Because of this, it just might be a godsend to anyone who suffers from a sensitive stomach or digestive issues.
Still wondering if this hot new superfood is right for you? According to Clancy, there are hardly any wellness plans it won't fit into. "It is suitable for any diet and food sensitivities," she explains. "Chocho is vegan and vegetarian, dairy-free, gluten-free, non-GMO, diabetics, grain-free, corn-free, low in fat, soy-free, and sugar-free." If all that sounds good, and you're looking for ways to start incorporating it into meals now, you can opt for the ancient way, and use the legumes in a vegan ceviche or a hot soup you can whip up in your slow cooker (just use it in place of another grain or bean you're trying to avoid). Or for a gas-free hummus, try this recipe from Five Sun Foods.
And speaking of the brand, come spring, you'll be able to ingest chocho in a powder form, which means adding it to your morning smoothies or subbing it into some of your favorite baked goods recipes for a protein-packed, grain-free treat. Head here to get on the waiting list for this upcoming product, or visit your local neighborhood grocery store to grab whole beans now so you can start reaping the plethora of benefits ASAP.