Smith & Cult Launched A New Lip Balm To Keep You Hydrated Around The Clock
Courtesy of Smith & Cult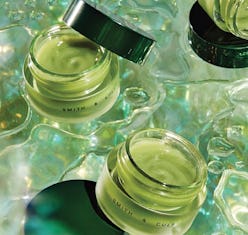 You likely put considerable effort into your skin care regime each morning when you wake up and at night before slipping beneath the sheets; perhaps you even take a pause midday to apply an additional coat of SPF protection or to spritz a hydrating facial mist to maintain a healthy glow. When it comes down to it, the only time you can't actively be caring for your complexion is while you snooze — unless you employ a host of overnight helpers that make "beauty sleep" a very real concept. And if you want one that ensures you wake up with a plump, hydrated pout, look no further than Smith & Cult's new Locked & Lit Lip Balm, which promises to keep lips moisturized around the clock.
Thought the CBD beauty craze was reaching its plateau? Think again, because the uber-buzzy beauty trend is only extending further and further. Cult-loved and crowd-favorite brands alike have hopped aboard the movement, formulating products from broad spectrum sunscreen to ultra-soothing face oils that include the plant-derived ingredient. The latest line to embrace CBD? Innovative cosmetics brand Smith & Cult, which seeks to upgrade your lip balm game with a very hydrating pot of green.
The Locked & Lit CBD Lip Balm, $21, landed on Smith & Cult's website on Sept. 19 ahead of a launch at Ulta.com on Sept. 22 — and it's just in time to help you keep your pout soft and supple throughout the colder seasons (when chapped lips become a very real and present danger). The super softening balm is infused with real hemp-derived CBD, which soothes and strengthens your lips' protective barrier so a dry, flaky, and cracked pout is a thing of the past. And don't be alarmed by the very green hue, because as soon as the product hits your lips it slicks on completely clear.
But it's not just CBD that makes this smooth, creamy cocktail so comforting for lips. It's also formulated with coconut-derived MCT oil and antioxidant-packed apple seed oil, the former of which focuses on moisturizing your pout while the latter provides a punch of vitamins A and E plus fatty acids to smooth and soften your lips' sensitive, dryness-prone skin. Possibly the best part about the long-lasting balm? It can be applied as an overnight lip mask that works around the clock while you're asleep, so you wake up with soft, smooth lips that are ready to take on the day.
Upgrade your beauty routine to work hard while you rest by snagging Smith & Cult's new super-hydrating lip balm, below.
Readers should note that the regulations and data surrounding CBD are still developing. As such, the information contained in this post should not be construed as medical or legal advice. Always consult with your doctor before trying any substance or supplement.