Fenty Beauty Just Announced Even More New Products — Here's When You Can Shop Them
Fenty Beauty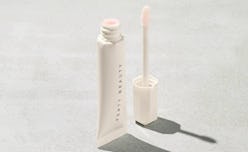 Hello, welcome to 2019, aka the year of Fenty Beauty. Just when you thought your makeup collection was stocked, the brand announced Fenty Beauty's Pro Kiss'r Luscious Lip Balm and Lip Loving Scrubstick — yes, a whole new lip collection — will be arriving May 10. While launching lip-perfecting products may feel like more of a pre-winter move for a makeup brand, Fenty Beauty knows what it's doing. "Luscious, kiss-me-now lips are an absolute must, no matter the look you're going for," reads a quote by Rihanna in a press email — and she's right. Though really, could anyone question Rihanna's beauty know-how?
You'll have to shop quickly if you want to get your hands on the Pro Kiss'r collection, too; both the scrubstick and lip balm will only be available for a limited time. So make sure you mark your calendar, and get ready to hit up your local Sephora (or Sephora and Fenty Beauty's websites) the day the collection drops. Because this is Fenty Beauty: Two Instagram posts advertising the new lip care collection accumulated over 300,000 likes. It's safe to say this one is highly anticipated.
But can you blame Fenty Beauty's fans for being excited? Not only could this be the beginning of Fenty Beauty skin care, but the upcoming products fit right into the brand's established makeup line and are affordable to boot. The Pro Kiss'r lip balm will retail for $18, while the scrubstick will only cost you $16.
The thought the brand put into how fans should use the product shows why Fenty Beauty continues to dominate the industry, though. Obviously, you can exfoliate with the scrubstick then follow up with the balm for moisturized, kissable lips. However, Fenty Beauty also notes in the product description that the balm itself doubles as a super quick lip mask: Swipe it on before your apply any makeup, then go about your routine. By the time you're ready to apply lipstick, the balm will have soaked into your lips — so you can just wipe off any leftover product and apply color to your now-hydrated lips. "I'm obsessed with keeping my lips super soft and smooth — that's the key to making lipstick look perfect," reads another quote from Rihanna.
And because the scrub is a stick formula (versus the traditional jar packaging), you can take your new lip care routine with you wherever you go. Ahead, the new Pro Kiss'r collection by Fenty Beauty.