R+Co Added A New Product To Its Lineup & It's Going To Make Your Hair-Styling Routine So Much Simpler
Courtesy of R+Co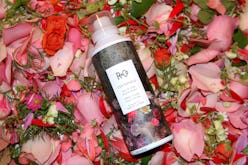 Lather, rinse, repeat. Treat, prep, blow-dry, more prep, style. Finishing spray, tousle, more spray, tousle. Finally your hair is ready for the day, and you're already exhausted before you've even left home. Sound familiar? A super-involved hair routine probably seems like your only answer to get sleek, impeccable strands every day — that is, until this new product entered the scene to streamline your styling process. R+Co's CENTERPIECE All-In-One Elixir Spray is exactly what it sounds like: A one-and-done hero that'll help you get the hair of your dreams in a single effortless step. So yes, you'll want to grab it for yourself ASAP.
If you're among those who rely on hot tools and a whole host of styling products to achieve your desired hair aesthetic every day, you know how much time and effort (and hard-earned cash) goes into it. You've got your heat protectant, damage-deterring detangling treatment, a styling cream or serum, and a finishing product to get you through each step of your routine and out the door looking good. But what if one — yes, just one — product could pull the weight of all of them?
That's the whole idea behind R+Co's CENTERPIECE All-In-One Elixir Spray, $32, a lightweight multi-purpose product that helps style and treat hair all at once, saving you precious minutes in your morning routine. The easy-to-use spray, now available on the brand's site, NeimanMarcus.com, Space NK, and select salons, singlehandedly detangles, smoothes, softens, hydrates, and strengthens your locks for a sleek, polished look every time.
How does this seemingly magical potion work? Not unlike your favorite skin care, actually. For starters, R+Co's newest launch relies on one tried-and-true hydrator to ensure a soft, smooth, and bright appearance: hyaluronic acid. The moisture-attracting ingredient locks in much-needed hydration to keep your hair looking smooth and lively, just like your favorite serum does for your face.
Meanwhile, sea buckthorn seed oil, another popular natural additive, conditions hair with rich fatty acids that bring unparalleled levels of shine, and lemon peel extract packs a vitamin C punch for added brightness and strength. Vitamin-rich sugarcane extract rounds out the powerful elixir with antioxidant protection that helps seal the follicle and provides a barrier against free radicals.
Simply spritz CENTERPIECE onto clean, damp hair and comb through before you style as usual — the only difference is you can clear out the other products that used to hog space on your counter. You can also layer the spray with your other holy-grail hair buys, or use it to revive second-day hair with renewed shine and smoothness (plus it'll make your strands smell incredibly good thanks to notes of cardamom, pineapple and tangerine, lavender, and wood).
Shop R+Co's new streamlining superhero below.