You Can Now Get Vernon François' Cult-Favorite Haircare Products At Sally Beauty
Vernon Francois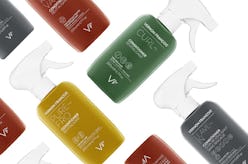 When you discover a seemingly underground beauty secret, the initial excitement is certainly enjoyable — after all, it's incredibly satisfying to say you discovered the holy grail product that not only you but several of your friends swear by. But those feelings quickly fade and turn to frustration when you realize how hard it is to get your hands on the beloved buy. That's why fans of one cult-loved hair line will be glad to know it just landed at a very accessible retailer to make scoring it easier than ever. Yes, Vernon Francois haircare is now available at Sally Beauty, so you can stock up on all your curl-loving favorites next time you shop the mega beauty retailer.
If you've got strands that are curly, kinky, wavy, or coily, you know the struggle is real when it comes to finding effective haircare products that embrace and enhance your natural hair. Thankfully, it's celeb-loved hairstylist Vernon Francois' mission to do just that by celebrating and championing textured hair in all its glory and giving you the products that'll help you enjoy good hair days every day — so it's no wonder his namesake like, which launched in 2016, has quickly become cult-loved by anyone on the hunt for premium natural hair products. And the good news is, it just got even easier to grab the curl-perfecting range for yourself.
The Vernon Francois Collection is now shoppable at Sally Beauty both online and in-store at thousands of its locations, a major leap for the brand which was previously only available at luxury online shops and seeks to expand on its mission to (figuratively and literally) lift up natural hair.
"The Vernon Francois Collection is designed to erase the fear of managing hair," said Francois in an official press release. "The partnership with Sally Beauty offers a platform to grow the brand's diverse community where consumers shop for an individualized experience. As a longtime customer who grew up shopping at Sally Beauty, this partnership is a huge moment for me, and a reminder that anything is possible when you work hard with focus and purpose."
Next time you head to the store, grab the Vernon Francois products best suited to your specific texture, like the Pure Fro Shampoo, $14.09, and Conditioner, $18.09, formulated to support coiled and kinky hair without weighing it down, or the Curl Shampoo and Conditioner for those with looser curls and waves. Stock up on styling superheroes like the Mist Nourishing Water, $16.09, that revives curls between washes for renewed body and bounce, and the Dazzling Spritz Shine Spray, $14.09, that enhances your hair's shine with natural conditioning oils plus light-reflecting particles.
Below, see all the good hair day must-haves from Vernon Francois you can now get during your next Sally Beauty shopping spree.