Micro-Cations Are Taking Over Travel — Here's How To Take One ASAP
Jacob Lund/Shutterstock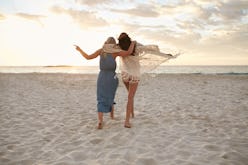 With jam-packed schedules, getting away for longer than a few days isn't always possible — besides the fact that it also may not be financially feasible. But if you're in need of a break from your regularly scheduled programming, it's totally still possible for you to unplug, recharge, and explore a new place without compromising too much time or too many resources. Quick and easy vacations are a rising trend — so much so that there's even a clever new name for them: micro-cations. And they just might be the solution to you maintaining your sanity.
The season is quickly coming to a close, so if you've yet to enjoy any summer trips you're probably getting a little antsy to break away and enjoy the warm weather someplace other than your usual day-to-day setting (though if you can't get away at all, there's always the option of a staycation). That said, there's still plenty of time for an adventure, especially considering the micro-cation trend, and according to travel gurus like Brianna Glenn of Milk & Honey Travels, they can be just as memorable as more extended holidays — if not more so.
"Fun weekend getaways are an easy way to add some excitement into your life on a whim," says Glenn. And one of the ways she suggests doing just that is by zeroing in on locations that are easily accessible, as an instant time-saver. "Yes, you should explore the world, but you should also take the time to explore your own backyard," she adds. "I have become more and more inspired to make these trips a priority in my travel experiences, and it's been amazing!"
To prove the point, Glenn — who's based in Orange County, California — has even curated some chic trips to nearby Los Angeles, Palm Springs, and San Diego as evidence that some of the most exciting trips don't always have to be the most exotic ones. And if a beachside town or inspiring desert isn't exactly within your reach, don't stress. The world-traveler has a few pro tips to help you plan your own version of a memorable micro-cation. Ahead find a few things she suggests you take into consideration for a cool but quick getaway.
Travel Time
This is likely the most important factor to making your trip as efficient as possible. Glenn suggests you prioritize destinations that are the most accessible, no matter how you're planning to get there. "Any short trip should be an easy, non-stop flight (something you can get to in about an hour or two) or a short drive. Anything up to three hours is short enough to not feel like you are spending the whole day in the car," she offers.
Focus On Experiences
As Glenn explains, some of the most memorable parts of a trip are the totally unexpected ones. So while it's helpful to choose your destination with some attention paid to the potential experiences you can have there (wine tasting if you're near a vineyard, for example), don't forget to give in to the random ones as well — like pulling over to a roadside stop that looks fun and interesting to snag some souvenirs or snap photos. "There doesn't need to be a real reason for a micro-cation, and often times these can be more of a spontaneous decision when time and opportunity permits," she says.
Food, Glorious Food
Consider yourself a foodie? While the time limits of a micro-cation might not allow for a ton of different activities, dining is something you can explore and have some fun with regardless of where you go. "Exploring a new city through its culinary offerings is pretty much my favorite thing ever," Glenn says. "It makes you savor and appreciate the moment, and it can be a real treat to have your getaway focused on meal after incredible meal."
And enjoying the local fare doesn't have to mean expensive, multi-course meals, either. Sample the street food offerings or go shopping at a local farmer's market to whip up your own meal with ingredients specific to the area.
Don't Forget To Unplug
Getting away to have a much needed break from work and other obligations? Make the most of a micro-cation but limiting your use of email and social media to really soak up every stress-free moment. "Use the few days as a digital detox," suggests Glenn. "Delete social media apps from your phone. Turn off Netflix. Explore. Get lost in a good book. You'll return to everyday life with a new pep in your step."
Gather The Troops
While some people may prefer their micro-cation to be a quiet and solitary experience, others might get want to maximize their good times by bringing a group of close friends along. "A micro-cation is a perfect opportunity to focus on your friendships and take some intentional time to bond and make memories with your closest pals," Glenn says. "Like any relationship, friendships take nurturing and there is no better way to create lasting memories than to travel together."