Why Travel Souvenirs Make For The Best Home Decor According To Interior Designers
Shutterstock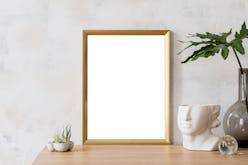 Whether you're a once-a-year vacationer or an avid world explorer, your best travel memories should always be on display. And if you take a page from the pros, you can turn your travel souvenirs into chic home decor that's totally unique — and totally you.
Gone are the days of kitschy dust-collectors and vacation snapshots being stuffed in an album. With a little technique — and some creative forethought — your eclectic style can speak to your epic adventures, and the ones that are to come. While it's easy to get swept up in a festival or marketplace, the trick is to build a cohesive collection, then tie it all together once you get home.
That's where the pros come in. Ahead, two world-traveling interior designers share their expert secrets on transforming your souvenirs into trendy home decor pieces. From settling on a theme, to customizing a gallery wall, to curating your own designer-approved collection, these ideas will keep those bucket-list memories alive and upgrade your abode to have year-round vacation vibes ... check, check!
So on your next trip, leave the extra luggage at home because one thing's for sure: You'll never want to waste money on cheesy mementos again.
Collect Chic Souvenirs
Pro Tips: When it comes to creating a look that's eclectic but still pulled-together, New Jersey-based interior designer Karen B. Wolf says the secret is to decide on a theme instead of buying odds and ends with no rhyme or reason. "If you are stuck on what to collect, think about motifs, patterns, materials, and color," she says.
Textiles
"Textiles are always a great choice when incorporating travel mementos into your home," says Stefani Stein, a Los Angeles-based interior designer. "Regardless of where in the world you are visiting, there are often local textile and weaving traditions. Having a scarf, table linen, or throw made into an accent pillow can add a unique yet functional touch to your home."
She adds a tried-and-true trick for pattern mixing: "If you are apprehensive about how to layer or combine your finds, particularly with textiles, try honing things into a single color palette or sticking with neutrals."
Coffee Table Books
Another one of her go-to finds include coffee table books, which you can display in a stack or stash on a book shelf. You can even rotate which ones get an honorary spot on your coffee table depending on your seasonal decor. "I always make a point of visiting museums, gardens, and interesting architectural sites during my travels," Stein shares. "There are often books available about the location or a specific exhibit currently on display."
"A warning, though," she continues, "A [heavy book] can be a bit annoying to lug around in your suitcase on a multi-stop holiday. Be mindful of how many books you are buying!"
Unique Objects
Wolf says that collecting objects in the same material can be the difference between artful decor and a cluster of tchotchkes. For instance, "if you are collecting a material (glass, porcelain, metals, stone), think about mixing opacities and textures for a high/low contrast, and keep your collection in the same color family for uniformity."
She gives an example: "Maybe glass is your jam, so start a perfume bottle collection [or] collect glass trays." The designer adds that one of her personal favorites are tagines, traditional earthenware pots which she started collecting on a recent trip to Morocco.
Frame & Display Artwork
Pro Tips: If you're packing light, artwork is a great way to capture memories without adding bulk to your backpack.
"Try printing photos on [non-traditional] mediums (metal, acrylic, wood) for a more elevated feel," says Wolf. "Other decor-inspired ways to display photos are to pay homage to the theme of the photo; if it's nautical, use rope to hang your framed or unframed photos; if it's Asian, use a beautiful rice paper frame around the photo and a stunning bamboo frame to enhance the origin. Western? Print the photo on wood. From a big city? Float the photo in between acrylic for a modern look."
If you're looking to layer photos on a shelf, mantel, or mount them on an accent wall, she recommends using frames in a similar color palette and style. Finally, try printing a series in black and white, which "helps to unify photos from multiple locations."
Shelfies
Wolf encourages travelers to start taking "shelfies," or selfies to add to your shelves, dresser tops, or side tables. Be sure to include plenty of background scenery for a brag-worthy shot that still offers a "wish you were here" sentiment.
Photo Series
If you've got a good eye (and a decent camera), try taking your own snapshots in a themed photo series that takes viewers around the world. "Recently in the Mediterranean, I photographed only iron gates, which are particularly ornate and colorful in Italy, France and Spain," Wolf says.
Other Accent Wall Add-Ons
If photography isn't your thing, you can always purchase a piece from a street artist, or buy squares of fabric, printed paper, or postcards, which can be framed. "When collecting patterns, vary scale (large, small) and mediums (paint, ink, watercolor, pastels, prints); but again, keep your color story the same," concludes Wolf.