The Brilliant Staycation Idea You Should Try Next Week
Africa Studio/Shutterstock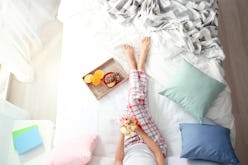 Depending on your work schedule, current budget situation, or overload of tasks and projects, taking even a quick weekend getaway might sometimes feel totally impossible. But that doesn't mean you can't still hit the refresh button and give yourself a moment of much needed rest, relaxation, and inspiration to power through everything coming up on your calendar. As a matter of fact, some of the best staycation ideas don't even involve leaving the house.
Sure, it can be a fun option to play tourist in your own town, but there are also those times when staying in feels even more enticing. That said, it can be challenging to shut your brain off to any projects that might otherwise distract you from completely unwinding (unless you happen to get a certain pleasure out of such things). The best version of an at-home staycation manages to let you feel somewhat transported, but with all the comforts that being in your own space affords you. Maybe that includes a weekend of Netflix bingeing or taking all the long luxurious bubble baths you want — either way, the best staycations are the ones that allow to truly recharge.
And if you need some ideas before plotting your own, ahead, here are five ways to make the very most of your next indoor vaycay.
Do A Digital Detox
If you truly want to disconnect from your usual distractions, a digital detox might be in order. By putting down your devices for a day or two, you can truly take a break from work obligations and also channel your time and energy into offline things, like that book you keep meaning to finish, or treating your body to a restorative yoga flow or guided meditation.
Treat Yourself To A Spa Experience
Even if it's as simple as drawing yourself a stress-relieving bath or doing a DIY manicure, this is the perfect time to treat yourself to a little pampering. And if you've got the funds for it, you might even want to spring for a service like Priv to have a professional come to you.
Order In
Try out the latest new restaurant from the privacy of your home (in pajamas, if you feel like it!) or just order in from your favorite pizza place. A home staycation is the perfect excuse to take a break from cooking and your usual routine and enjoy a few of your fave dishes without lifting a finger. That said, if cooking soothes you, this might also be the perfect time to try out a new recipe or bake something totally indulgent.
Catch Up On Your Favorites
With a full workload, there's probably a few shows or movies you just haven't gotten around to watching, but have been wanting to. Your staycation is an ideal time to catch up on your favorites. Do a movie marathon, or finally binge that new series everyone's been talking about.
Work On A Creative Project
The whole Netflix-and-chill thing can be fun, but maybe you want to avoid screen time altogether. If that's the case, use this time to indulge in some of your favorite creative hobbies, like sketching, journaling, creating a vision board, or sinking your teeth into something crafty.