The Unexpected (& Affordable) City Everyone Should Visit This Summer, According To Travel Experts
Day2505/Shutterstock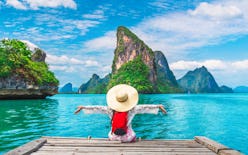 There's something about summertime that gives you a sense of freedom. Whether you're longing to explore a new corner of the world or to simply feel the wind in your hair, the season seems full of possibilities. And luckily, it is; no matter where you live or the size of your budget, there are affordable summer trips you can book right now, especially if you're willing to think outside the box.
For instance, booking a weekend getaway just a state or two away can be just the escape you need, and camping or glamping offers particularly budget-friendly options. If you're even shorter on time (or money), you can play tourist in your own town for a day, or take a day trip to a nearby city. (Road trip, anyone?)
But even if you'd rather head farther away, your vacation doesn't have to break the bank; you just have to know where to look. "There are actually a lot of sales going on right now around Memorial Day for cruises in Europe in particular," said a Wanderful community member in a recent poll. Another gives advice for the spontaneous traveler. "I frequently recommend the Fareness app to people. If you don't know where you want to go, but want inexpensive airfare, just put in your origin city and number of days [you want to travel for]."
Staffo Dobrev, budget travel expert at Wanderu, suggests thinking about places that are in their off-season. "For example, flights to the Caribbean tend to be less expensive now than during colder months," he says. And as far as scoping out cheap transportation, buses and trains are much more cost effective than planes. "When it comes to traveling internationally, buses and trains are the way to go too," he adds. You can scoop up cheap bus and train tickets on Explore by Wanderu, where you enter your location, a set of dates, as well as your budget.
Looking for more ideas? Ahead, three travel gurus give their top budget-friendly picks for vacationing during the warmest part of the year. From a handful of US cities that may be near your hometown to glamping adventures in lands far away, keep in mind that traveling on a shoestring budget can be half the fun. After all, as they say, it's about the journey, not the destination.
New York City
"NYC is one of the most expensive cities in the world," admits Dobrev. "However, with tons of airports and bus and train stations in its vicinity, the New York City metro area is easily the biggest travel hub in the Northeast, meaning that there are many different ways of getting there for relatively cheap, regardless of where you are in the country. More importantly, it also means that you have a very large pool of choices you can travel to from the New York area for just a few bucks. For example, there are 17 cool places you can visit from New York by bus or train for under $20."
While in the Big Apple, search Airbnb to rent out affordable apartments (especially if you're splitting the cost with friends) or check out nearby hostels for more budget-friendly options -- you can even book a private room. You should plan on splurging on a nice dinner or two, but you'll save lots of cash by buying most of your meals from street vendors. You'll even have your pick of everything from hot dogs and pizza to gyros, tacos, and dessert waffles.
Nakhon Phanom, Thailand
While plane tickets to Asia will probably be pricey, you'll be able to make up for it by staying at this luxe $64 per night Glamping hub listing. "From the authentic Thai ambiance and decor to the incredible high-end amenities including air conditioning, these luxury affordable tents in the jungles of Thailand cannot be beaten," says Jessica Armstrong, partnerships manager at Glamping Hub. "Located in the heart of one of Thailand's most beautiful natural parks, this site offers everything from safaris to mountain trekking to river rafting and visiting the stunning elephants. If you are looking for a summer filled with adventure from a picturesque location at a great price, then these sites are for you."
Bonus: Thailand is known for its legendary street food, which is both delicious and easy on the wallet. Before you go, plan an itinerary of places to eat.
Harrisburg, Pennsylvania
"Despite being the capital of Pennsylvania, Harrisburg is frequently overlooked as a vacation destination," points out Beth Santos, founder and CEO of Wanderful, a women's travel site. "It's only three hours from New York City so it's great for a road trip, and is filled with adorable historic brownstones, trendy cafes and restaurants, and beautiful gardens. You can make a long weekend out of it by also visiting Hershey, which is filled with vineyards (and, of course, chocolate). Not having to fly makes it much easier (and cheaper) for a last-minute vacation, and since it's a smaller city, you'll find yourself spending less on food and beverage compared to the larger cities nearby."
Granada, Nicaragua
Just because the sun is shining doesn't mean you shouldn't consider a tropical escape (in fact, this is the best time of year to do so affordably). Experience island life for under $75 a night at this beachfront treehouse, listed on Glamping Hub.
"What better way to spend your summer vacation than from the comforts of a tree house on a private island in Nicaragua?" says Armstrong. "With all the amenities one would find in a five-star resort to offerings including an onsite restaurant, boat and jeep tours, and activities including snorkeling and diving, glampers will not want to miss out on this steal of a deal this summer."
Louisville, Kentucky
"I have been pleasantly surprised by Louisville, Kentucky," says Santos. "There's plenty to do, from really cool antique markets to the Bourbon trail. It's also very affordable — you can find multi-bedroom Airbnbs for less than $100 per night. It's less than two hours from both Cincinnati and Indianapolis, or you can road trip down to Nashville in less than three hours." She adds, "Being able to hop to multiple cities in a short period of time is a great way to maximize the travel while minimizing the budget."