Nicole Kidman Just Revealed Something About "Big Little Lies" That She Wasn't Supposed To
Brook Mitchell/Getty Images Entertainment/Getty Images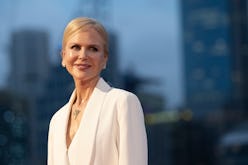 As Big Little Lies fans impatiently await Season 2 of the critically-acclaimed HBO series, the star-studded cast is making rounds promoting the return of the Emmy Award-winning show. Appearing in Manhattan for a panel discussion last Weds. at The Wing, a co-working and community space for women, Nicole Kidman revealed a Big Little Lies spoiler that sent fans into a downward spiral of emotions.
As Kidman, Reese Witherspoon, Laura Dern, and new cast member Meryl Streep got to talking about what goes into the female-led drama, the Australian actor hinted at the return of one character viewers believed was long gone.
At the end of Season 1, Alexander Skarsgård's character, Perry Wright, took a tumble from high above when Zoe Kravitz's character, Bonnie, accidentally pushed him to his death — or so everyone thought. It sounds morbid, but viewers weren't entirely devastated when Wright met his grisly fate, considering his abusive treatment toward his wife, Celeste, played by Nicole Kidman.
When asked about starring alongside Skarsgård, Kidman spilled a shocking bit of tea, revealing that the widely-detested character might be making a comeback. "He was the most incredible acting partner, and then he came back for Season 2," Kidman divulged, before Witherspoon motioned for her costar to zip it in order to avoid an accidental giveaway. Backpedaling, Kidman continued, "He has a little bit of a part in the sense of … the basis of … okay, I'll be quiet. He didn't abandon us. We'll put it that way."
Unsurprisingly, fans were promptly overcome with a lot of feelings. "I'm on the final episode of Big Little Lies and I haven't read any spoiler and I'm gonna have a heart attack," one Twitter user posted of Season 1, so worlds were likely shattered amidst the unexpected revelation. But what does it all mean? Does Skarsgård return solely in the form of flashbacks, or will the Monterey Five be haunted by the ghost of his loathsome character?
Loyal viewers will have to wait until the June 9 release date (and maybe beyond) to be entirely sure, but Kidman's accidental slip-up definitely has everyone even more at the edge of their seats. Viewership is already expected to soar with the arrival of heavy-hitter Meryl Streep, and this consequential bit of information will only fuel the fire. In the meantime, the acclaimed cast members are consistently serving next-level looks while promoting the series, so you can swoon over those in the days leading up to the big reveal.