5 Wardrobe Staples Reese Witherspoon Swears By
Josiah Kamau/BuzzFoto via Getty Images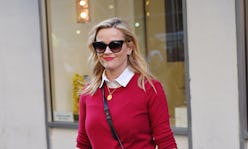 Have you ever tried to rally the effort and discipline to clean out your closet, only to find that you can't decide which items to keep and which pieces to give away? If you're attempting to create a seasonally transitional capsule closet, look no further than Reese Witherspoon's style. The iconic actor, social activist, author, and designer is known for mindfully incorporating charming details into each and every look. No matter your occasion, there's a Witherspoon outfit to draw inspiration from.
Ahead, The Zoe Report breaks down the five wardrobe essentials every Witherspoon-inspired closet needs.
Floral Skirt
Maybe it's her affinity for Southern charm, but Witherspoon is an expert at integrating super-sweet pieces into sophisticated looks. A perfect example comes in the form of a polished look that she pieced together in early Jan. The actor was photographed while walking in Los Angeles on Jan. 10 wearing a black turtleneck sweater, a floral mini skirt with a frilly hem, and a pair of black ankle boots. While a playful print like this one tends to evoke images of beachwear and other vacation-appropriate ensembles, Witherspoon's take on the trend is totally wearable for winter.
Adding a structured, black turtleneck, boots, and a leather bag help make this look suitable for a cold-weather day. Fortunately for Witherspoon, temperatures in L.A. rarely drop under 50 degrees. However, if you're looking to bundle up, add tights, a wool coat, and knee-high boots.
Button-Down + Sweater Combo
Sometimes the most straight-forward outfits have potential to make the biggest style impact. Take Witherspoon's effortless-looking mix of a crisp, white button-down layered under a red sweater. The 42-year-old looked classic while walking the streets of New York in Nov. 2017 when she paired the uncomplicated mash-up with black trousers, matching loafers, and a studded crossbody bag by Gucci.
A look like this will take you just about anywhere, from the office to post-work drinks. Add some edge by accessorizing with gold jewelry and a studded clutch, or stay subtle by throwing on jeans and sneakers.
Gingham Dress
Gingham isn't reserved for picnics and springtime soirees. In fact, a gingham dress can be a year-round staple when styled accordingly. Although Witherspoon opted for a bright-blue midi, white platforms with woven soles, and a basket bag while out in Los Angeles in June of 2017, there are plenty of ways to make a gingham dress your own. Layer a chunky knit on top for extra warmth, add some grit with colored cowboy boots, or try a cargo-inspired jacket for a little contrast.
Classic Trench
As demonstrated by recent fashion trends, trenches come in an insurmountable number of iterations. From leather trench coats and robe styles, to fuzzy, teddy jackets, the traditional trench will always reign supreme. Witherspoon validated this point when she showed up to the set of Good Morning America in New York City on Sept. 7, 2017.
The Draper James founder covered up in a navy, double-breasted coat that featured a waist-cinching belt and a hem that sat just above the knee. Adding a piece like this to your winter wardrobe is practically a no-brainer. Sleek, stylish, and incredibly versatile, this is the item you'll find yourself wearing day after day.
Statement Sunglasses
Celebrities are basically forced to come up with stylish ways to shield their faces from the constant snaps and flashes of the paparazzi. During her years in the limelight, Witherspoon has become accustomed to donning sunglasses that are both elegant and exciting. The actor pays special attention to color and shape when shopping for shades, like this red-framed pair she was seen in while walking in Los Angeles on April 25, 2017.
Witherspoon used her colorful frames as matching accents to complement red pumps, a red bag, a cherry-adorned t-shirt, and crimson lips. Go bold with a bright color or experiment with tortoise textures next time you find yourself in the sunglass aisle. Better yet, shop your favorites online.