L.A. & New York Girls Love Zoë Kravitz Style Just The Same — Here's How To Channel It
Curtis Means/Ace Pictures/Shutterstock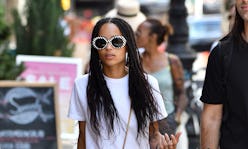 They say je ne sais quoi is an intangible and elusive quality that makes something distinctive or attractive. It's a casual carelessness that doesn't come off sloppy, it just works. Entranced onlookers can't seem to put their finger on it — it's a certain effortlessness you can't learn. And if you were to look it up in the fashion dictionary, you'd surely find a blueprint of Zoë Kravitz's wardrobe.
The Los Angeles-born Brooklynite regularly strikes a perfect balance between both coasts, infusing a breezy L.A. aura into the edgy, wearable aesthetic of the fast-paced concrete jungle. With a draw towards leather, denim, and cozy knitwear, the tastemaker is known for her approachable sensibilities, and remains a total vision whether rocking waist-length mirco braids or a platinum pixie cut. That's not to say the Big Little Lies star won't dress to the nines — she knows how to serve couture glamour when the occasion strikes.
A master at high-low mixing, Kravitz sprinkles luxurious details throughout her undone getups, resulting in a range of thoughtful looks that still leave you convinced she just rolled out of bed. And even though that unfazed, cool-girl air is something you can't buy, there are a few key staples that pop up time and time again in Kravit'z go-to edit. Ahead, shop four items that characterize Kravitz's enviable downtown style, and welcome them into your closet, stat.
Classic White Tee
How many ways can you wear a white t-shirt? The limit does not exist, and Kravitz can cosign. Whether paired with relaxed denim, a slinky slip dress, or worn oversized as a dress, the actor has welcomed the mainstay item into her wardrobe for the long haul.
Oversized Denim Jacket
Kravitz grew up in the '90s, so it's no surprise she consistently incorporates grunge-inspired favorites of the era. See how she offsets this roomy jacket with stilettos and silver hoops? It's a chameleon item that can morph into so many different vibes, depending on where you're headed, and styled accordingly.
Crossbody Bag
Accessories are a foolproof way to add a high-end spin on any casual look. When the LOLAWOLF singer is on-the-go in New York City, she's got a statement crossbody bag slung across her more times than not. Spruce up a basic tee with a touch of hardware or logomania and bring the look full circle.
Ankle Boots
From combat boots to western-inspired styles, Kravitz is big on walkable shoes. Whether styled with denim shorts, a boho frock, or a t-shirt dress, the city slicker doesn't stray far from the It-girl staple while getting things done.