This $21 Product Might Work Better Than Your Favorite Liner – Here's Why
Yuchen Liao/Getty Images Entertainment/Getty Images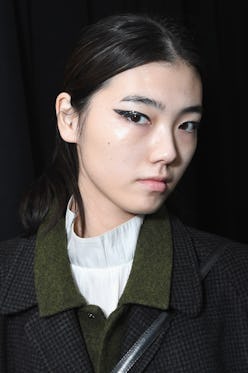 Like most beauty enthusiasts living in a post-Glossier era, I'm constantly doing the dew: soft skin, shimmering highlight, and maybe a slight sheen on my lips. I've curated an expert collection of skincare and makeup products to help me achieve my glowing-all-over goal, from face oils to unexpected highlighters (my trick: a swipe of Aquaphor on the cheekbones) — but my regimen always seemed to be missing something, although I couldn't quite put my finger on what. After trying Lumify Eye Drops — a TZR Beauty Awards 2018 winner! — I finally figured it out: My eyes just needed a little more sparkle.
I never thought of myself as someone who needed eye drops, as my eyes aren't usually red, per say. But when a sample of Lumify showed up on my doorstep, I figured I'd give it a try anyway. (The chic lavender packaging may have had something to do with that.) Over the next few days, I noticed the reflection in the mirror looked decidedly more radiant; and with that, my glow-getting collection was complete.
"Brighter and whiter eyes will instantly make you look more put together and refreshed," Vincent Oquendo, a makeup artist who works with Tessa Thompson and Lily Collins (and a Lumify brand ambassador), tells me. "It helps make the eyes look luminous no matter what makeup look I'm going for." It makes so much sense: When the whites of your eyes have that well-rested shine, it brightens up your whole face.
"Lumify drops are formulated with low dose brimonidine, an ingredient that is new to over-the-counter eye drops and works differently from other redness relievers by selectively targeting redness," Chris Marschall, the Vice President of Marketing and Consumer Healthcare at Bausch + Lomb, tells TZR. Essentially, by targeting tiny patches of redness, Lumify makes the whites of the eyes pop and glimmer in a way that other OTC eye products don't. Consider it the eye-care answer to dewy skin. "Just one drop starts working in one minute and lasts up to eight hours to help make eyes look whiter and brighter," he says.
The drops aren't just for people with bloodshot eyes, either; in my experience, Lumify acts as a stand-in for a good night's sleep on early mornings, when the whites of your eyes aren't necessarily red, just kind of… dull. Because apparently, if this area has an off-white or yellow cast to it, it can have a dulling effect on your complexion, too.
A single drop of Lumify lasts all day, but the product can be used up to four times in 24 hours if necessary, Marschall says. "Unlike other redness relievers, Lumify has a reduced risk of common side effects, like rebound redness and loss of efficacy over time," he adds, due to its targeted approach. In other words, your eyes won't become more red with consistent application and the drops won't stop working the more you use them.
There are a few caveats: Like any OTC eye drop, the product can cause itching and sensitivity; those who wear contact lenses should remove them before using the drops and wait 10 minutes before re-inserting; and it's recommended to wait five minutes in between doses if you're mixing Lumify with other eye drops. I personally do a drop in each eye on the days I actually leave the house (ah, the joys of working from home), and haven't noticed any negative side effects.
If you're not really the eye drop type, a similar bright-eyed effect can be achieved by employing a few makeup tricks. "Making the whites of the eye appear brighter helps the overall makeup look more fresh and finished," Jaleesa Jaikaran, a makeup artist who recently glammed models for the Phillip Lim runway, tells The Zoe Report. She suggests lining your waterline with a flesh-toned pencil. "Some will opt for a white pencil, but white tends to look a bit stark," she explains. "A good tip to finish the look is to use a nude or white shimmery eyeshadow in the inner corner of the eyes, blended softly. That tends to be an area that has a lot of darkness, so adding that really helps."
Surprisingly, blue mascara can also make the whites of the eyes appear more luminous. "The color blue cancels out the yellow of the eye," the makeup artist explains. "Apply only to the top lashes — it's an instant eye brightener."
Ahead, every unexpected essential you need to complete your glowing-all-over beauty routine.
Shop Eye-Brightening Must-Haves