The New Way To Wear Colored Mascara
Imaxtree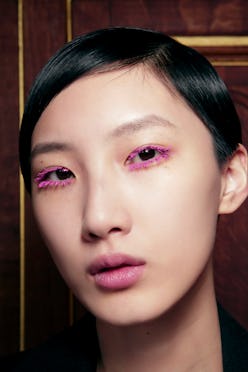 Earlier this month, Lupita Nyong'o single-handedly ushered in the next big beauty trend when she showed up to the Golden Globes sporting eye-catching, electric blue mascara. Well, maybe not single-handedly — her makeup artist, Nick Barose, had a part in creating the look, too. On Instagram, he called Nyong'o's makeup "a little bit of '80s fun;" but just like almost everything else from the decade (strong shoulders, voluminous hair), bright mascara is officially back in a way that feels oh-so-modern. As for how to wear colored mascara in 2019? With confidence and a little bit of color coordination, according to experts.
"I think colorful mascara is back on trend because we're taking more chances with color and finding various ways to express our style and personality through beauty," Neil Scibelli, a celebrity makeup artist who works with models Elle Macpherson and Larsen Thompson, tells The Zoe Report. (It was only a matter of time before beauty enthusiasts grew tired of basic black mascara, right?) "It's also something that isn't hard to do, as most people feel confident using mascara," Georgina Graham, a pro makeup artist known for her work with brands like Topshop and Sisley Paris, tells TZR. "And this trend suits everyone — all ages and skin tones."
You can make the look as subtle or intense as you like. For a low-key version of Nyongo's take on colored mascara, "an electric blue or aqua green mascara is a fun way to wear the trend," Scibelli says. "I suggest playing up the colored mascara as the feature of the eyes, as an alternative to color shadow." In other words, keep the lid clean so as not to compete with your lash shade of choice. "For a more subtle approach, try going for a navy blue or a deep plum," he advises. Both hues appear neutral at first glance, but pop when they catch the light.
"For a modern twist, try just one coat and keep it minimal cool," Graham says, citing neon shades like orange and "slime green" as trendy colors that work best sans eyeshadow.
Ready to gradually dial up the drama? "Wear a deeper colored mascara with a smokey look on the eyelids," Scibelli tells TZR. This is a pretty fool-proof way to mix and match shadow and mascara shades; start with a standard smokey eye in black or brown, and accent with a rich burgundy mascara (L'Oreal Voluminous Mascara in Deep Burgundy is an affordable option) or even a forest green hue, like YSL Mascara Vinyl Couture in I'm The Excitement.
"I love to do a two-tone look on the upper eyelash for a bit of fun," Graham adds. "For example, an emerald green mascara on the inner half of the lashes nearest to the nose and then an amethyst purple mascara on the outer half of the upper lashes." The effect? High fashion, high-impact glam worthy of the red carpet.
To state the obvious, colored mascara brings a lot of attention to the area — so nailing the right texture (no clumps or spidery lashes) is super important here. "I always carry disposable mascara wands in my kit to comb out lashes," Scibelli shares. "They're a great way to comb through your lashes and de-clump if needed." This is also a genius technique for toning down the intensity, just in case you overdo it on the bright mascara and are "looking for a more natural finish," he says.
Ahead, shop everything you need — mascara, falsies, and clean spoolies — to achieve the modern, colorful lash look that's about to take over 2019.
Shop Colored Lashes