The Only Trends To Care About In 2019, According To 6 Fashion Insiders
WWD/Shutterstock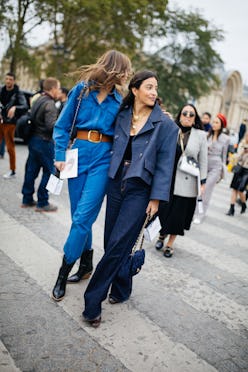 It's almost two weeks into 2019, which means you've already checked a few cliché resolutions off your "new year, new me" list. You cleaned out your kitchen cabinets, attended more workout classes than you're normally inclined to, and revamped your wardrobe to make room for the new year's trends. Of course, your perfect fitting jean and go-to cozy sweater will remain in your heavy rotation, but it's a time to look ahead, and find out from fashion insiders which 2019 trends are worth shopping for.
From tie-dye pieces to beaded accessories, 2019 has already welcomed a slew of exciting styles that will shine some light on the bitter months of winter and carry you into spring. But that doesn't mean you should give up on your favorite trends of 2018 either. "We'll continue to see great tailoring, which is carried over in new variations for the spring and summer months," says Elizabeth von der Goltz, global buying director for Net-a-Porter. "We'll also see animal prints, specifically leopard, which is now considered a basic and a neutral in my wardrobe."
Ready for even more insight into the trends worth trying (and holding onto) in the months to come? Below, a few of the industry's most stylish and in-the-know experts, from fashion and buying directors at major retailers (aka the ones who pick the pieces you add to your carts) to stylists and designers. Armed with the knowledge of what they're looking forward to wearing, you'll know exactly how to update your closet too.
Caroline Maguire, Fashion Director for Shopbop
"Go bold or go home! This season is all about ultra-bright tie-dye and neon trends, chunky platform sandals, and shielded sunnies."
"Tie-dye and neons are such loud prints, I'd keep the rest of my outfit understated with easy denim."
"I like the idea of pairing chunky platforms with a feminine floral dress to juxtapose the masculinity of the sandal."
"Wraparound sunnies pair great with your '80s or '90s major fashion moments like logo hoodies and neons."
Erica Russo, VP and Fashion Director for Accessories and Beauty for Bloomingdale's
"2019 brings no shortage of prints, and snakeskin is definitely one of the most popular. [It] looks updated and fresh in a bold color like red, I love that you can take these pants from day to night. For a daytime look, I'd pair [the pants] with a cute blouse and easy bootie. At night I'd dress the look up with a black bodysuit and strappy sandals. These pants are also perfect for a chic weekend look layered with a crew neck sweater or tee and paired with white chunky sneakers."
"I'm also loving beaded bags. The new handheld shape gives a vintage-yet-modern vibe that updates almost any outfit. The beauty of the beaded bag is that it is extremely versatile, you can pair it with denim for a fashionable daytime look or dress it up with a printed mini skirt at night."
"For Spring, designers showed their love for shells, sea, and surf on the runways and with that came open knit fabrics like netting and crochet. Keep this look clean and simple with a bold gold earring and an easy flat slide."
Elle Strauss, Stylist
"I'm styling bright colors with neutrals. My style is pretty simple and I love the idea of playing with vivid reds and sky blues to pump up my typically neutral palette."
"I like a sky blue maxi dress paired with a camel cross body bag. Or a pink blazer and red fanny pack worn with a white t-shirt maxi dress."
"I am wearing textured accessories, like rope or woven accents. I would even wear them as a belt or as a lace up detail on tops"
Elizabeth Von Der Goltz, Global Buying Director For Net-a-Porter
"I am excited for the utility chic and California cool trends that we saw across the Spring/Summer 2019 runways. I'm obsessing over the many boiler suits we saw on the runway. Boiler suits are ideal because they're comfortable, flattering, and a fabulous one-piece outfit. They can be dressed up with heels or dressed down with boots and sneakers. I especially love boiler suits for my travels because they make for efficient packing; it's an entire outfit I can simply throw in my suitcase and wear several times throughout my many trips."
"I also love the leather dressing trend and I have my eyes on a yellow leather trench coat. It can add a pop of color and will polish off any look!"
"High-waisted cargo pants can be worn from day to night. You can pair them with blazers for work or with a tee and a barely there sandal for leisure."
"I'm buying several pairs of barely there sandals, and I already own a few pairs as it is! We saw this trend everywhere during fashion month and I intend to wear them for meetings, events, and casual nights out on the town. They're comfortable, classic and timeless for a wide assortment of styling."
Aurora James, Founder and Creative Director of Brother Vellies
"My Princess Diana off-duty love is alive and well. I get excited about a blazer with a hair bow and cowboy boots with some bling. That's the dream. For oversized hair bows, I have been collecting Bianca and Red hair bows like its a gold rush and I have no intention of stopping anytime soon."
"For bling, I love a tennis bracelet and necklace as part of a person's everyday style DNA. Those are investments that should stick with you daily."
"I'm over-the-moon obsessed with our Brother Vellies Doodle Boots – both the Mermaid and Ying Yang. I wear cowboy boots with all of my vintage dresses. They're pretty universal and the Doodles make the outfit."
Marina Larroudé, Fashion Director For Barneys New York
"I love a good tie-dye piece. I'm glad it's trending, so there are plenty of products available. One must have piece is the tie-dyed skirt from Raf Simons for Calvin Klein. I would style it with a chunky sweater for winter, and when spring comes with a simple white tee."
"Neon started taking shape last year and got really big for Spring/Summer 2019. I'll keep wearing my bright Barneys New York cashmere sweater for months to come."