Why Tatcha's New Serum Is The Brightening Skin-Saver You Need This Winter
IMAXTREE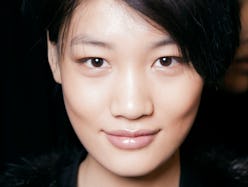 Winter is here, and it's here to stay for the foreseeable future. Now that the holiday season is over, you're left to trudge through the remainder of the coldest time of year with little to look forward to other than the eventual return of spring. And of all winter's less-than desirable qualities — from dangerous commutes to dreary, gray skies — little is as upsetting as the harsh toll the season takes on skin. But before you totally lose hope on having a happy complexion until winter's end, the just-launched Tatcha Violet-C serum may be the solution you've been seeking.
The beauty brand dropped its latest product on Jan. 1 in conjunction with a shiny new year, and just in time to rescue your skin from the inevitable traumas of winter weather — the dryness, dullness, flakiness, and irritation that pops up when the conditions get bleak. But what is it that makes this serum so special, considering there are so many other vitamin C serums out there?
For starters, Tatcha's new Violet-C Brightening Serum is composed of 20 percent vitamin C, so it's super-concentrated for maximum potency. Not only that, but the vitamin C used in the serum is stabilized with antioxidant-rich Japanese Beautyberry (meaning it won't lose efficacy over time like some vitamin C serums can), and is formulated with both water-soluble and oil-soluble varieties for quick absorption and increased brightening effects over time. With nightly use, it promises to boost protection against aging, free radicals, UV rays, and everything else that tries to take your glow.
Long story short, this serum is packed with bright complexion goodness via the latest and greatest vitamin C the brand could get its hands on — meaning it's practically guaranteed to give your skin the glowy, dewy appearance you've been missing since winter's brutal return.
As an extra kick, the serum leans on an impressive 10 percent of gently-exfoliating AHAs (alpha hydroxy acids), so your skin is treated to gradual and non-irritating resurfacing with each use. And to treat dark spots, Tatcha added a new ingredient called Angelica Root, that diffuses hyperpigmentation beneath the skin's surface. The intended result? A softer, smoother, brighter, more radiant and even complexion — all without the use of harsh acids, skin-lightening ingredients, or retinol. Not much else you could ask for in a serum.
If your skin is in need of a pick-me-up this season, consider giving Tatcha's latest launch a try. With seriously effective ingredients in super-high (but still gentle) concentrations, it's the heavy hitter you'll need as winter really takes its toll on your complexion. For brighter days ahead, shop the new Violet-C serum, below.