5 Lucy Hale-Approved Hair Colors To Refresh Your Look This Season
Stephen Lovekin/Variety/REX/Shutterstock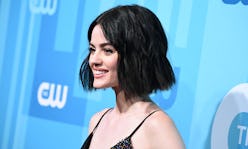 Constant hair changes are often a staple in celebrity style, whether they appear in the form of a dramatic chop or a shocking color transformation. Known for her fearlessness when it comes to fashion and beauty, Lucy Hale's bold hair colors never cease to surprise her fans. If you're in search of a new look this holiday season, there's no better color inspiration than Hale herself.
Hale's ever-changing hair colors are often the work of celebrity hairstylist Kristin Ess. As evident from Ess' Instagram feed, the pair loves to take risks with new hues, always staying true to Hale's edgy yet refined style. While the actor's natural hair is a true, classic brown, Ess has enhanced it by adding highlights, lowlights, face-framing details, and exciting pops of color.
This season, follow Hale's lead and refresh your cold-weather style with a brand-spanking-new hair color. Whether you're looking to add subtle dimension to your signature hue, or you're ready to venture into completely new territory, Hale's extensive portfolio of hair changes serves as the ultimate inspiration. Before heading to your pre-holiday appointment, take a screenshot of one of Hale's best hair colors, below. And while you're at it, don't forget to shop The Zoe Report's curation of the best color-preserving products to help maintain your new hue, ahead.
Caramel Highlights
Lighten up your natural color with these muted-caramel highlights à la Hale. While the style looks sleek when straightened or curled, the color combination truly shines when it's worn in messy beach waves. The best part? All this hue requires is a salt-water spray and easy, lived-in texture.
Velvety Brown
Hale decided to go extra dark in Aug. when she dyed her hair a deep, chocolate brown. The rich color paired perfectly with her angled, choppy bob and emphasized her matching bold eyebrows. The actor's hazel-green eyes popped even more when paired with this sultry hair shade. Winter is a great time to opt for darker hair, either by foregoing your next highlight appointment or going for a full-on dye job.
Bright & Blonde
In her latest hair switch, Hale embraced the colder months in a brand new way with a bright blonde. If the upkeep of highlights feels too daunting during the holiday season, experiment with the balayage technique instead. Your colorist will paint the dye on and separate sections of your hair with plastic wrap, rather than foil. This extra-blended approach makes grow-out wearable, instead of that horribly harsh line along your roots. Hale isn't the only celebrity to endorse blonde hair this winter, either: Elizabeth Olsen and Hilary Duff are both on board.
A Touch Of Pink
Somehow Hale made pink hair look understated with this rose-gold- toned lob. Her natural color still peeked out at the roots, with a subdued, pink shade mixed throughout. If you've always wanted to try a bold hair color, this may be the easiest way to get your feet wet. It's exciting enough that people will notice, but still soft and subtle to complement every holiday outfit. Even Julia Roberts has experimented with the pink-hair trend.
Face-Framing Copper
It seems like Ess and Hale took a cue from the autumn leaves when developing this glossy copper shade. This tone was practically made to be worn with a berry lipstick, rosy cheeks, and feathered brows. Use a straightener to create "S-waves" for a style that looks much more undone than traditional curls.
Ahead, The Zoe Report's favorite color-safe products to preserve your new hue.
Shop Color-Safe Products