Lucy Hale Dyed Her Hair An Unexpected Shade For Winter
Rich Polk/Getty Images Entertainment/Getty Images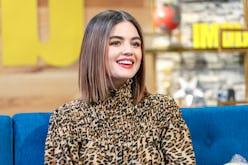 Lucy Hale changes her hairstyle almost as often as she changes her clothes. The actor spent much of her year in the salon chair, each time leaving with a lighter shade, and now she's ending 2018 with a bang. Although it isn't what you might expect for winter, Lucy Hale's new golden-blonde hair is a fresh change for the new year.
The Pretty Little Liars actor certainly isn't afraid to switch up her look, having sported just about every color in the rainbow within the past year alone. Hale has been slowly but surely easing into lighter hues for months now, and her latest Instagram post shows that she's finally taken the plunge.
The hair chameleon showed off her bright new look to her 22 million Instagram followers on Mon., writing that she just "couldn't end the year without one more hair change." The video shows the actor's signature chin-grazing bob turned golden blonde. And behind the dye job is Hale's go-to stylist, Kristin Ess.
Ess has been the mastermind behind nearly all of Hale's hair transformations. In fact, the actor hardly even flinch when she dyed it bubblegum pink with Ess' Rose Gold Temporary Tint from her namesake Target line.
The hairstylist recently told Allure why Hale switches up her hair so frequently these days, saying that the actor had actually been craving change throughout the filming of Pretty Little Liars but had to wait until the show wrapped in 2016. Since then, the hair chameleon has sported dark-brown, bold pink, and sandy-hued highlights.
Just a month ago, Hale added blonde highlights into her chestnut lob. Ess posted a photo of the actor's new hairdo with the advice, "When going from dark brown to blonde, trust your colorist to do it at the right pace to keep your hair from snapping off," hinting that Hale might have been planning to go full blonde all along.
It isn't exactly common to go brighter at the beginning of winter, a season that historically beckons darker hues. While others like Sienna Miller are trading out their blonde hair for darker shades ahead of the holidays, Hale certainly went in another direction with her latest dye job. Perhaps the unexpected makeover is proof that following the path less traveled is sometimes simply the best move.
That's definitely the case for Hale, at least, who will be ringing in 2019 with the brightest new look. Maybe she'll even go platinum after the New Year. Come to think of it, she'll probably opt for just the opposite and return to the dark side when temps are on the rise. Either way, Hale's ever-changing look constantly oversteps all hair boundaries, making it acceptable to break age-old beauty rules.
These days, not only can you wear white after Labor Day, but you can dye your hair lighter in Nov., too. There's no need to wait until springtime to book that seat at the salon — according to Hale, there's no better time than now to become a blonde.