7 Color-Protecting Hair Products That'll Keep Your Fall Dye Job From Fading
John Phillips/Getty Images Entertainment/Getty Images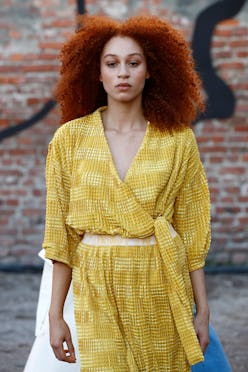 It's here. It's happening. Summer 2018 really is over, and fall officially kicks off on Sept. 21. Some of you might be pining the days of rooftop parties and open-toed sandals. Others, however, may have your cart filled to the brim with every leather boot within eyesight since July. Yeah, I'm ready. So ready, in fact, that I already talked to some of the top hair stylists across the US to find out what the most in-demand hair colors for fall are — and according to them, their clients have change on the mind (think: iridescent and dusty tones).
But even once you've landed on your go-to fall color, it's a lot of work to keep it as vibrant as when you left the salon: A new arsenal of hair products to preserve your fall dye job should really be the first thing on your shopping list, alongside those Gia Couture leopard stretch booties. Just saying.
Think about it: Your hair is already in fragile state after being chemically treated. And aside from that, you're already dealing with dropping temps and friction from clothing (hello, sweater weather). That's why many of the products ahead feature good-for-you ingredients, like wild mango butter and an assortment of oils, to keep your strands sealed and shiny. Ahead, stylists from across the country tell us the shampoos, conditioners, and treatments that they always send their clients home with.
"As we shift into cooler months, moisture is your friend. Oway's Bair Bath should be your go-to. With ingredients like hydrating basil essential oil and strengthening amino acids, your hair will be shiny and silky." Plus, this bottle looks majorly chic on any vanity.
"I love and personally recommend anything from Oribe. Not only are the brand's products color-safe, which will help maintain your color until your next service, but they also have UV protection which is key. Most people don't realize that we need SPF on our hair as well, to protect against fading. Using the whole line, from cleansing to styling, will really help maintain and prolong your new color."
"I always advise my clients to shampoo less often and rinse and condition instead. I love Bumble and Bumble's Color Minded Shampoo for straight to loosely curled textures and Hair Rules Cleansing Cream for highly curly to kinky textures.
"Fall and winter are the best seasons to invest in a good hair mask, too, as the weather gets dry and cold. Use the Christophe Robin Regenerating Mask on straight to wavy textures before you shampoo. On curly to kinky textures, use it after your shampoo."
"The Olaplex at-home system — especially the new #4 and #5 — protects your hair from damage because coloring your hair doesn't make it any softer. This stuff will."
"Sleeping with a treatment in overnight can help add moisture and prevent dryness. My Weekly Remedy at-home conditioning treatment instantly hydrates and repairs hair inside out, all while enhancing and preserving color."