This Wall Art Print Was Practically Made For Vintage-Lovers
Nicole LaMotte courtesy of Society6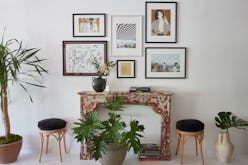 Art is a guaranteed way to add a little personality to any space you're decorating — but with so many options to choose from and so many pieces with high price tags, shopping for it can be a bit intimidating. That said, if you're in search of decor that will give a chic, creative, and unique feel to your home, there may be a solution that's easy to find and often pretty affordable. By styling your pad with vintage wall art prints, you can achieve a totally individual look without breaking the bank.
Using vintage decor pieces is a surefire way to ensure your space isn't a replica of everyone else's, which is one of many advantages. And whether you're creating a full-on gallery wall or just seeking the one perfect piece of art to make a room pop, vintage prints could be the solution to making your home feel like a place that effectively reflects your personality. In fact, Los Angeles-based interior stylist Tiffany Howell loves picking up such works to put the cherry on top of the design projects she tackles through her studio/gallery Night Palm.
"I love styling with vintage wall art," Howell says. "I believe it's the one thing that can either tie a room together or bring a room to life." And art is one of the ways the designer achieves her signature moody and romantic style — though she admits you don't have to have a big budget to try this trick in your own home. "Art doesn't have to be expensive it just has to resonate with you," she explains. "It can be a really affordable way to interject color and personality into your space. I love finding vintage pieces that are one-of-a-kind and have character. Unlike buying new, you know nobody else will have it."
While Howell does a lot of her vintage art shopping at flea markets and estate sales, she's also been known to pick up prints online through sites like Chairish and eBay. And if you're feeling limited shopping actual vintage pieces, tons of home decor retailers ofter vintage-inspired options that give you the same effect.
If it's a gallery feel you're trying to create, Howell has some expert advice. "I personally collect female form paintings and drawings," she explains. "I did a whole wall behind my bed with a grouping of them in one color palette — it's my own mini gallery." She's also got a great tip for finding affordable pieces by artists you already love. "Look for lithographs of favorite artists," she says. "It's a good way to get a great piece of art that maybe you couldn't afford in a limited edition."
Game for doing a little digging in real life? Howell suggests hitting up estate sales and consignment stores as well, and to think outside the box by considering vintage scarves or jewelry in lieu of prints. That said, if you're looking to get inspired with some vintage and vintage-inspired prints, from fashion illustrations to retro posters and beyond, see ahead for some options you can shop now — no rummaging required.