Artisanal Throw Pillows Are A Thing — And Your Couch Will Never Be The Same
Photographee.eu/Shutterstock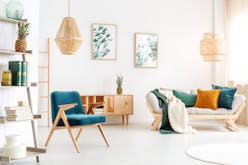 There are few things more satisfying than creating a beautiful, functional, and comfortable living room. Considering the fact that most people spend a good portion of their life in the space, it should be a place that keeps you both visually stimulated and totally at ease. That said, if you are in fact looking for items to spruce up your common area, there are a ton of beautiful, artisan home decor pieces that will not only inject a global, eclectic feel into your pad, but also help talented artists around the world.
As Kirsten Dickerson, founder, CEO, and creative director of fair-trade retailer Raven + Lily, explains, "Shopping for artisan-made goods is actually one of the greatest ways to support and empower women globally." Artisanal goods, by definition, are items that have been handcrafted by artists around the globe. And while buying such pieces is both a benefit to your home and the talented communities that create them, you can even go one step further in helping these artists by specifically looking for fair-traded goods. "When you support companies that work directly with artisans and follow fair trade practices, you can trust you are purchasing something that was thoughtfully made, preserves a traditional culture, and empowers people at a grass roots level," says Dickerson.
And besides feeling good about what you're buying, shopping artisanal products for your home also means scoring extra special finds. "It's so empowering to know the story behind the things I purchase," says Dickerson. "Style is such a powerful way to express yourself and tell your own story, and incorporating artisan-made products into your home and wardrobe is a beautiful way to do just that." Ahead, find a handful of one-of-a-kind goods (including a few fair-trade options) that will kick your decor up a notch.