The Unexpected Statement Piece Your Living Room Is Missing
Restoration Hardware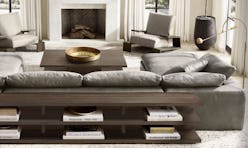 If you have a more eclectic interior decor taste or you're looking for a unique statement piece, it can feel like visiting every thrift store in your vicinity is the only way to find furniture not already in the home of everyone you know. But when searching for unique floor lamps, it's much easier to skip updating tangles of vintage wiring and just browse the new lamp selection of Restoration Hardware.
The focus on design origins sets Restoration Hardware's floor lamps apart from other stores. Instead of simply listing a new product's details and dimensions, Restoration Hardware often attributes each piece to the designer that imagined it. Like following the creative energy of the egg chair back to mid-century modern designer Arne Jacobsen, you can easily trace this $1395 Ryder floor lamp to Ian K. Fowler's refined modernism, which has won him the Pinnacle Award for Lighting twice since beginning his craft in the '90s. The iron base of the Ryder is hand-forged, adding a truly industrial element to your home.
Often times, the floor lamps are like pieces of art — literally. The gracefully arching Orbiter II Grand Floor Lamp is the next iteration of the 1967 Orbiter design by Robert Sonneman, which was displayed in the Museum of Modern Art in 1968. And at $1695 for the Orbiter II, your living room can be as luxe as a MoMA industrial design display. Restoration Hardware doesn't skimp on utility, either; the Orbiter II is offered in burnished brass, bronze, and nickel finishes, and is outfitted with a rotary dimmer switch for mood lighting in a pinch.
Though mid-century modern is certainly reigning supreme across interior design, you don't have to be obsessed with all things modern to find a floor lamp at Restoration Hardware that fits your style. This subdued, airy Pauillac floor lamp is $895 and is inspired by 1940s French design. Designed by the celebrated Jonathan Browning, whose clients include Tiffany & Co. and breathtaking Las Vegas hotels like the Bellagio or the Venetian, the lamp's linen drum shade lets out the perfect moody light.
Browning also took on the classic design of European torchieres when designing the L'Arc Task Floor Lamp. Available for $1555, this lamp is slimmer than most arched floor lamps, making it the right choice for adding artistic light to a room already busy with other decor. Don't let the smaller size of the shade fool you, though — this lamp can hold up to a 6W bulb, plenty of light to turn your living room into a cozy reading nook. Though the lamp's available in a subtle dark bronze, the burnished brass finish is right on trend with the glam autumn decor hitting stores now.
Having the right lighting in your space can upgrade even the most well-decorated room by highlighting certain design elements, all the while turning a collection of rooms into a home. If you've been looking for a unique floor lamp that you won't see at every dinner party this season, scroll down to explore more of Restoration Hardware's new selection below.