Kristin Ess Hair Care Just Released Its Most Requested Product Ever (& It's Not For Your Hair)
Kristin Ess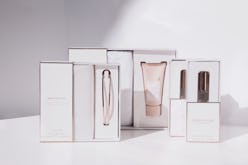 Kristin Ess is the hairstylist and colorist behind some of the most famous bobs in the business, including Lucy Hale's fresh blonde, Lauren Conrad's beach waves, and Jenna Dewan's single girl chop. Considering that her eponymous, affordable haircare line has been flying off Target shelves for almost two years now, you might assume her most requested item has something to do with hair. But, since Kristin Ess Hair Care launched early last year, fans have been clamoring for the line's signature scent to be formulated into a fragrance; and for the 2018 holiday season, Ess has delivered. The limited edition Kristin Ess fragrance, The One Eau du Parfum Rollerball, is officially here — and it's really good.
There's a reason customers are certifiably obsessed with the dreamy blend of pear water, violet, and sandalwood (among other notes) used to scent many of Ess' hair care products, including The One Signature Conditioner and The One Hair Water: It's equal parts subtle and unforgettable. "To be honest, it's not a combination I've ever smelled before in one fragrance," Ess tells The Zoe Report. "I don't see brands mixing something as sweet and fruity as a pear water with sandalwood and amber — it's not typically done." Ess eschewed traditional techniques when creating the scent for inclusion in the hair line, instead opting to mix and match notes in her own way. "The concoction is based off a trio of perfumes that I wear — we borrowed from that concept of mixing together to find the right one for us for this particular project," she says.
While she admits that crafting a scent for hair care products is a far cry from creating an actual perfume ("I'm sure every perfumer in the world would be like, What have you done?" she laughs), for Ess, fragrance was a natural next step. "I truly feel like there was no option," the stylist tells us. "From the day we launched, people would ask, Can you make laundry detergent? Can you make perfume?" When she learned that people were actually spraying their clothes with leave-in conditioner to get their fix of The One — yes, the love is that real — Ess decided to do something about it.
It helps that she has a personal passion for fragrance. "I probably have over 300 fragrances," Ess says. "I have so many, and for me, I just gravitate toward certain things and layer them." Which is actually not all that different from her day-to-day as a colorist. "Because I'm a colorist and I mix things all day everyday, I kind of treated this the same way," she reveals. The result of all that experimentation? A rollerball perfume that retains the intoxicating scent of The One hair products, with the added benefit of a concentrated formula that lasts all day... but is still, magically, light enough to layer with Ess' hair care products without feeling like it's all "too much."
But why stop at The One? While formulating her first official fragrance, Ess jumped straight into her second: the Translucence Eau du Parfum Rollerball, also released for holiday 2018. Whereas The One is a feminine daytime scent, Ess calls Translucence "sultry and more seductive."
"It plays on your body and your skin and your pheromones," Ess tells TZR. "You can put it on anyone and it will smell different on every person — but good on every person." With notes of white amber and ambergris, Translucence has a light, woodsy, mineral scent that warms up as it wears. "It's very transformative," the stylist says.
Translucence is also a hint at what's to come for Kristin Ess Hair Care. "The scent is brand new, but we will be incorporating into something coming next year," Ess teases.
Given Ess' affinity for fragrance layering, she encourages customers to mix and match the rollerball parfums saying, "You're doing the most if you're doing both of those — these are definitely two layerable fragrances." And at just $14 each, you might as well get them both… and maybe even get multiples. "Whether or not we add it to the line permanently is a different conversation," Ess says. "I hope that we do, but for now they'll only be available for a short period of time."
Ahead, shop the first fragrances from Kristin Ess Hair Care (and every other way to get your fix of The One's signature scent).