This Genius New Curling Wand Bends In Half To Make Styling Your Hair Less Awkward
Kristin Ess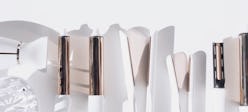 You may not know her by name, but Kristin Ess is the stylist behind some of your dream haircuts. Ess is known for Lucy Hale's blunt bob and maintaining Lauren Conrad's signature beachy waves, and the release of the Kristin Ess styling tools line is just another step in the stylist's quest to bring celebrity-approved hair to the masses.
Read more: Ceramic Vs. Titanium Flat Irons: Here's What Top Stylists Prefer
Available at Target, Ess' eponymous line is beloved for carrying professional-grade haircare products at affordable prices. The eight chic new tools follow suit, with the most expensive tool being an infrared blow dryer for just $100. In all, the release features three irons, three curlers, and two blow dryers — but those titles don't fully describe the genius of the versatile tools. Whether you want a polished glam style or Debby Ryan's natural waves, each Kristin Ess tool was created to do a little of both.
"As a hairstylist of 20+ years I've had the opportunity to try so many tools on the market, from high-end to mass," says celebrity hairstylist and founder Kristin Ess in an email. "I've always felt that the expensive tools were the chic ones, but the affordable options were not so attractive, and so it was kind of my mission to close that gap. There's no reason affordable tools can't perform well and look beautiful."
If you've ever tried to get Conrad's California waves, you know how time consuming and awkward using a regular curling iron can be. That's why the Kristin Ess Soft Wave Pivoting Wand Curling Iron can bend in half, making wrapping your hair around the heating element so much easier. And since the curling iron heats up to 425 degrees, anything that keeps you from accidentally singeing yourself (or your hair) is a big plus. Even better? The pivoting iron is only $60, and still packs in professional perks like ceramic heating elements and ionic technology.
Ess uses the Soft Wave Pivoting Wand on her clients differently than you would a classic curling iron. "People always ask me why they would use a curling wand versus a curling iron. The answer is simple," explains Ess. "You use a wand when you want fuller, more voluminous waves/curls. And you use a curling iron when you want more polished, textured waves. This wand is my go to for creating loose waves on medium to long lengths, or subtle bend shorter lengths."
Since quality heat tools are investments into your hair's health (especially if you straighten your hair regularly) it's normal to spend upwards of $100 on a flat iron without blinking an eye. Designed with the expensive features that make luxury flat irons worth their prices, the Kristin Ess 3-in-One Flat Iron retails for only $80. The titanium heating element itself is rounded for straightening, waving, or curling hair, and the iron has four preset temperature controls and a professional nine foot swivel cord. It's all the best parts from Kristin Ess' personal flat ironing experiencing, combined into one tool.
Does your hair still put up a fight against the best professional flat irons? You might need to invest in an iron with teeth. The precisely pronged Texture Taming Root Control Iron is available for $55, and is designed with curls in mind. Unlike regular flat irons that are great for finer hair, the teeth guides comb thick, curly hair toward the heating element. The tool is also great for styling cowlicks and bangs, which often end up straightened at odd angles when using typical flat irons.
"I'm working hard to make sure there is a routine for every hair type and I think this tool collection is simply and extension of that. You can get really far with product, but it's also important to be armed with the right tools to get the perfect finish," says Ess.
The Kristin Ess tools are already creating a huge buzz on the hair stylist's Instagram (the automatic shut-off feature meriting the funniest fire emojis), and Ess has teased that tutorials for the clever tools will be out soon. Keep scrolling for all eight of the new Kristin Ess styling tools, available at Target.