This OUAI Fragrance Restock Is Definitely Going To Sell Out
Courtesy of OUAI Haircare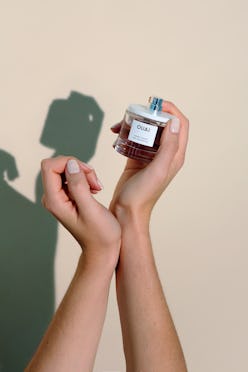 From your mouth to Jen Atkin's ears. Yes, the OUAI fragrance restock you've been waiting for is finally — almost — here, with some substantial upgrades. The three original scents (which came in exclusive rollerball trio sets last year) are not only back on November 13 in full-sized bottles, but there's also a new fragrance added to the mix.
Interestingly enough, the revamp — and inception — of these now-cult fragrances can be traced back to social media (thank you, Instagram gods). "We received an unbelievable number of DMs from our community to make scents they could actually wear," said OUAI founder and CEO Jen Atkin in an emailed interview. "I worked really hard crafting the perfect scents, inspired by fine fragrances, with the team at Givaudan [...] I found my favorites and mixed them all together. I wanted the line to smell specially curated."
The rest is OUAI history, as the original limited-edition trio — Mercer, Melrose, and Rue St. Honoré — was quite the hit and sold out in less than two days. Despite being a slight departure from the brand's roster of premium (and equally amazing-smelling) haircare, Atkin is more than fine with the detour. "I didn't envision it for the brand, but I'm excited for the demand," she says.
Always the pragmatic entrepreneur, Atkin responded to last year's reception with gusto when she sat down to plan out this year's offering. Just in time for the gifting season, she went more robust in all senses of the word, going bigger with her packaging (bottles are now 1.7 ounces) and throwing in another worldly scent (North Bondi) to give the people what they want. "I'm constantly traveling between Los Angeles, New York, Australia, and Paris for work, and after realizing how many girls were interested in our fragrances (via DM) we decided to name them after Rue St. Honoré, Mercer Street, North Bondi, and Melrose Place," she says. "OUAI fragrance names laud our girls around the world. I wanted to create a worldly line, and scent absolutely invokes our sense of memory."
The latest scent is actually the most asked-for amongst brand followers, as it quickly became popular from its presence in OUAI's fresh and beach-y smelling best-selling Wave Spray. The new fragrance includes notes of bergamot, lemon, white musk, violet, and rose de mai, so you can smell like your favorite product without wasting the valuable haircare formula. All four fragrances will join OUAI's body category, which also includes the Rose Hair & Body Oil and Scalp & Body Scrub.
And, according to the hair guru, this is only the beginning for OUAI's new offerings. "We have some exciting launches in the works," says Atkin. "We can't reveal specifics just yet! Keep an eye out on @theOUAI social for the details early next year."
In the meantime, be sure to get yourself on the fragrances' preorder list, as they are sure to sell out in a matter of days, judging by their popularity and the Insta-buzz already being generated. Check out the scents below.