How To Treat Eczema — Without The Help Of Steroids
Eczema Honey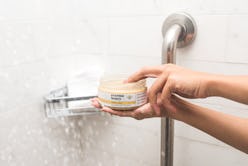 Over 10 percent of Americans — that's about 32 million people — have eczema, according to the National Eczema Association. There's no known cure for the condition, but one oft-prescribed way to manage symptoms is via steroid cream. Here's the thing, though: Over time, steroids can thin your skin, cause stretch marks, and even make eczema resistant to treatment — meaning, flare-ups sometimes come back stronger than they were before steroids entered the picture. Want to skip all that? No problem. There are plenty of derm-approved ways to deal with eczema — all without the help of steroids.
"Eczema, or atopic dermatitis, is a skin condition where a weakened skin barrier leads to itching, inflammation, redness, and scales," Dr. Caroline Robinson, a board-certified dermatologist, tells The Zoe Report. She explains that eczema is genetic and can be triggered by a host of environmental, diet, and lifestyle factors. "Topical steroids can be an essential and effective treatment to help manage eczema flares," she says — but again, they're not without their risks.
"The skin can become dependent on topical steroids when overused," Dr. Devika Icecreamwala of Icecreamwala Dermatology tells TZR, also citing thinned skin and stretch marks as potential complications. "Overuse of steroids has the risk of [enlarged] blood vessels in the skin or skin discoloration," Dr. Robinson adds. "Inappropriate use of steroids leads to a phenomenon called tachyphylaxis, where a person can become used to steroids and therefore less responsive." For reference, overuse would be anything more than 30 grams in 30 days, and most dermatologists recommend only two to three weeks of consistent steroid application at a time. In other words: Steroids will be an "effective" treatment for about a month or so before you veer into risky territory.
This isn't to fear-monger; I've experienced the downside of steroid therapy firsthand. A few years ago, I was over-prescribed steroid cream to treat my perioribital and perioral dermatitis, two forms of eczema involving flaky, peeling skin around my eyes and mouth. Besides triggering new outbreaks (because, yes, steroids are bafflingly one of the main causes of dermatitis, too) the treatment permanently thinned my skin, which is a problem I'll have to deal with for the rest of my life… and it's not fun. To be fair, this is the most extreme risk of steroid use — but if you're struggling with the chronic condition, it's important to know the facts, the risks, and all the options.
Ahead, everything you need to know about dealing with eczema, including how to treat it without steroids (if you're so inclined).