Target Just Introduced A Sustainable New Home Brand & It's All Under $12
Target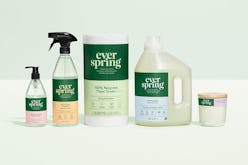 Sustainability isn't just a hot topic in the fashion world. Beginning April 22 — aka Earth Day — Target's new brand Everspring launches online and in Target stores everywhere. And with the new in-house brand comes 70 sustainable spring cleaning essentials, including all-purpose cleaners, dish soaps, and laundry detergents fragranced with essential oils. This first drop of household goods is only the beginning of Everspring, too; Target has announced on A Bullseye View that new products will continue to be released throughout the year.
Obviously, you may have some questions about what the concept of sustainability really means when it comes to cleaning products. Target has made it easy to understand: Everspring's products are Target Clean compliant, an initiative launched in March that identifies products made without certain chemicals (like phthalates, sulfates, or parabens). Beyond the formulas, the product packaging is made from recycled materials and is recyclable itself.
"Everspring is a great example of how we're listening — and responding — to the evolving needs of our guests in a way that's uniquely Target. Guests can feel confident they're purchasing essentials for their home that include ingredients and components they want and have the efficacy they need to get daily routines done," reads a quote by Christina Hennington, senior vice president, general merchandise manager at Target. "And, at prices nearly 20 percent less than comparable brands and a focus on fresh design, Everspring offers guests another compelling reason to stock up at Target."
The in-demand products don't come with steep price tags, either. This first round of Everspring goods ranges from just $2.79 to $11.99 — which is the impressive retail price of Everspring's Lavender & Bergamot Liquid Laundry Detergent. Though you may not realize it just by glancing at it, the detergent shows so many of the reasons you should get excited about Everspring: The naturally-fragranced formula is non-toxic, biodegradable, and wasn't tested on animals. The packaging itself was made with 50 percent post-consumer recycled plastic, and holds enough detergent to get through 64 loads of laundry.
At the moment, not all 70 Everspring products are available on Target's website; so make sure you keep checking back for some of the not-yet-released products Target teased on its website (like the essential oils and candles, which are bound to become fan favorites). There are still plenty of products to put into your shopping cart now, though — and below are some of Everspring's must-haves.