Throw A New Year's Eve Party That Friends Will Talk About For The Next 365 Days
Igisheva Maria/Shutterstock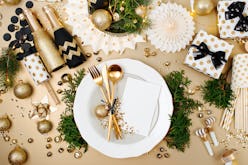 New Year's Eve is a perfect time to both pay respect to all the memories (mistakes included) you made over the past 12 months, and start thinking about everything you want to accomplish in the year ahead. And there's arguably no better way to do that than with a gathering of friends and family — and the addition of some festive food and drink sure doesn't hurt either. There's a lot that goes into a successful holiday bash and figuring out how to throw a truly memorable New Year's Eve bash yourself can be a bit intimidating.
To help make things a bit more manageable, you can always look to some entertainment experts to get New Year's Eve party tips that will ensure your affair will be a totally memorable one. Lindsey Andrews and Lara Crystal, founders of Minibar Delivery have essentially been helping others throw epic parties since 2013. The pair's company is essentially a service that, in addition to partnering with local liquor stores to deliver beer, wine, and liquor to your door (one less errand to run), also offers cocktail recipes, helps you book a bartender, and/or plan your party. So it's safe to say they've figured out the do's and don'ts that make a great event.
That said, if you're not heading out of town for a relaxing, phone-free getaway, break out your designated festive attire, learn some basic holiday etiquette, and follow the advice ahead to throw a bash that your guests will be talking about for all of 2019.
Give Options For Bubbly
Bubbles are an essential beverage for any good NYE party, and you can go above and beyond by offering a few different options. "Mix and match Champagne, Prosecco and rosé Champagne," suggest Andrews and Crystal. "This gives your guests bubbly options and doesn't force you to break your budget with a full bar of expensive champagne."
Create A Signature Cocktail
Another big booze tip is to offer your guests a custom holiday cocktail in addition to your bubbly, wine, and beer options. "Creating a signature cocktail makes the decision easy for your guests as you have made the drink decision for them," add Andrews and Crystal. But this also doesn't mean having to play bartender all night. Follow the Minibar Delivery founders' advice and make a big batch ahead of time so the drinks will be ready to serve on demand.
Don't Forget The Non-Drinkers
"Make sure you have drinks for those who do not drink alcohol" advises Andrews and Crystal. "Cranberry juice, ginger ale, and seltzer are all good things to have on hand."
Keep It Handy
If you want your guests to mingle freely, opt out of a sit-down dinner in favor of foods that are portable and easy to eat without a lot of fuss. "Hand-held foods are the best," Andrews and Crystal offer. "Your guests are less likely to sit down and eat with a fork and knife — unless it's a dedicated dinner party — so try and be mindful of this when ordering your food." Think sliders, skewers, and other bite-sized snacks.
Keep It Simple
"Keep the decor minimal but festive," suggest Andrews and Crystal. "No one wants to walk into a room that looks like an arts and crafts project. Mix in simple flower arrangements with delicate lights and greenery; this will bring in the holiday spirit without having it look like holiday overload."
Keep It Separated
To avoid congestion in one area, do as Andrews and Crystal recommend and keep the food and booze in separate areas. "This will create multiple spaces for people to mingle and ensure one area isn't overcrowded at all times," they explain.
Don't Go Overboard
It's easy to over-prepare for a holiday party, and therefore end up with a lot more booze than you'll actually use. To keep your liquor shopping simple, follow the advice of Minibar Delivery's founders and "limit your beer options to one light beer, one IPA, and maybe a seasonal option." As they explain, "This keeps your guests from being overwhelmed with the options." Additionally, the two suggest stocking one type of both red and white wines, plus a few bottles of rosé.