The Holiday Cocktail Your Friends Will Talk About For Years To Come
Chamille White/Shutterstock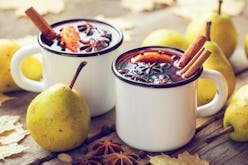 Now that Halloween has come and gone, many of you are starting to furiously plan for the holiday season: the gift shopping and wrapping, the decorating, and the party planning, to name just a few things on the list. And while there's plenty to do, there's also so much to look forward to, not the least of which is all the festive food and drink you're going to be consuming. As for the latter, the good news is you don't even have to go to great lengths to create an easy, crowd-pleasing holiday cocktail that even expert mixologists would cheers to.
For Pamela Wiznitzer, beverage manager at Henry in NYC's Life Hotel and mixologist for Big Apple Circus, the holiday season is a time to (albeit temporarily) put down your go-to glass of wine, vodka soda, or whatever standard drink you sip year-round, and try something a little more festive. "During the holiday season, cocktails can play a main focus when entertaining at home or going out to your favorite bar," she explains. "While some drinks are classic (Manhattans, martinis, Negronis, margaritas), opt for something that really captures the fall and winter months in a glass."
According to Wiznitzer, you don't have to be a cocktail guru like her to manage a few seasonal drinks that will impress, whether you're playing hostess at your own holiday fete, or just bartending for a party of one (yourself) while watching The Holiday — or whatever your favorite seasonal flick is — for the millionth time. Ahead, find her suggestions for five easy-to-make drinks you'll want to try this season.
Lion's Tail
If you love a whiskey sour, this classic (but frequently forgotten) gem of a drink will be a seasonal twist on the flavors you already love. Made with bourbon, fresh lime juice, allspice dram, bitters, and simple syrup (plus optional egg white if you want to really get fancy), this cocktail is, as Wiznitzer describes, "nice and tart with hints of allspice that really round out the mouthfeel. It's a phenomenal classic drink that is overlooked too often!" Find a version of the recipe here.
Mulled Wine
"Nothing like a warm glass of red wine that's full of mulling spices (and sometimes some brandy!)," says Wiznitzer. And while there are tons of easy-to-follow recipes for mulled wine available online (like this one for example), the cocktail slinger suggests that whatever one you choose, you should be sure to pick a full-bodied red for the best possible version. You can even use your slow-cooker to whip up a batch, which will also make your house smell like a winter dream come true by the time guests arrive.
Jack Rose
It's the prominent booze in the Jack Rose — a drink that dates back to the 1920s, when it appeared in The Sun Also Rises — that makes it especially great to sip during the holidays. "Applejack is the perfect liquor of the season, and this drink is not only easy to make, but also full of fantastic flavors," Wiznitzer shares. With only two other ingredients besides the apple brandy (grenadine and fresh lemon juice), this one is a cinch to create, even for bartending novices. Try out Imbibe's version here.
Sazerac
The New Orleans classic cocktail is made with rye whiskey, bitters, absinthe, and (classically) a sugar cube, but Wiznitzer suggests making one simple swap to make it feel a bit more seasonal. "It's possible you've had sazeracs with rye bases, but have you ever tried to swap out that rye for cognac?" she asks. "Many debates exist about the true origins of the drink (cognac or rye), but try an all-brandy-based Sazerac for a truly delightful treat." Start with this recipe, but don't forget to sub in the cognac.
Grasshopper
For a drink that doubles as dessert, this classic cocktail is worth revisiting. As Wiznitzer describes, "You can't deny that mint is a classic ingredient of the holiday season, and this cocktail is the best post-dinner finish with its creamy, chocolate and mint pop." It also happens to be incredibly simple to make, with just a few ingredients. Test out Martha Stewart's Grasshopper recipe here.