Reformation's New Year's Eve Collection Proves Holiday Dressing Doesn't Have To Involve Sequins
Reformation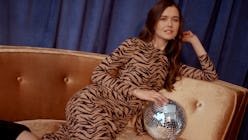 With every year, the time seems to move faster and faster. Before you know it, the world will be minutes away from 2019, welcoming in the new year. But in all honesty, if you're planning on celebrating the night in style — which, you know you are — shopping for a festive outfit can be much easier said than done, especially if you you want to give the sparkle and shine of sequins a break this year. Not to worry, though — Reformation's New Year's Eve Collection has officially dropped, and there are two things you should know about it. First, sequins aren't necessary to celebrate the big night and second, it's good.
A highly coveted and relatively affordable brand loved by stylish women everywhere, Reformation has released some of the coolest pieces to wear this New Year's Eve (with pieces in the collection ranging from $148 to $278). Though there are a handful of pieces that involve sequins (after all, what's ringing in the new year without a little bit of sparkle?), most of the dresses and bodysuits in the collection veer away from the classic NYE embellishment, which means you can, too. Plus, this means that you can wear these stylish dresses after the holiday too, which is something every fashion lover can get behind.
Of course, with a brand that has a cult-following like that of Reformation, you know it's going to sell out — and fast. In fact, some of the pieces have already sold out (yes, you read that right). But don't fret: If you're eager to wear one of the pieces that aren't in stock, you can sign up for the waitlist on the website. That way, you'll know exactly when to snatch up the dress you've bookmarked for the countdown.
For those who have been fans of wearing animal prints all fall, arguably the biggest trend of the season, then you'll love wearing the Maurita Dress, which is available for $218 and features a cool tiger print to mark the end of 2018 on the wild side. If prints aren't exactly your thing, the dress is available in a navy blue as well, which you can wear for just about any occasion. On the other hand, if you're looking for something on the festive side that doesn't involve sequins, the Ruby Dress, $178, is the perfect alternative. Made with a chic velvet fabric, you'll have enough sheen to feel special (not to mention warm) throughout the night in an understated way.
Looking to wear something on the more playful side this New Year's Eve? The Minka Dress, which costs $248, is the way to go. It's a classic strapless dress with a faux-fur trim neckline that will ensure endless compliments on your dress, without a doubt. Or, you can opt for the sleek Aerin Bodysuit, which will look good no matter what you wear on the bottom.
If there's one thing that can be certain about Reformation's New Year's Eve Collection, you'll be wearing these pieces more than just once, as you should. Keep scrolling to see more of the brand's collection below.