Why A Technology-Free Getaway Makes For The Best New Year's Eve Plan
West Coast Scapes/Shutterstock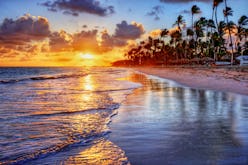 In ringing in a new year, one's mind typically gravitates to sparkly dresses, clinking glasses, and a certain lit-up ball in the middle of Times Square. But this year — particularly if it's been a hectic one — you might want to consider more relaxing New Year's Eve plans. Maybe you're looking forward to leaving behind an unhealthy relationship, a toxic work environment, or the last dregs of holiday season stress. In any case, there's no better way to hit the "refresh" button than by planning a getaway that fully allows you to unwind, unplug, and detox from the past 365 days.
This December (or January, or February), pass on the parties, fireworks, and crowds, and celebrate the new year with a change of scenery that'll help you feel recharged and ready for 2019. Whether it's a one-night spa experience just a few miles from home, a weekend retreat in the dessert, or an island escape only accessible by boat, try hopping off the grid — just for a little while — for some well-deserved rest and relaxation. You may not be kissing strangers at midnight, but don't worry; you can still have your champagne.
Need some travel inspo? Ahead, find some of the most luxurious and rejuvenating destinations in the world, handpicked for you by the experts at CIRE Travel and Go! Girl Guides. Trade your heels and your mini dress for your flip-flops and terry robe — you definitely won't regret it.
If You Need To Recharge
Unwind In Europe
What better way to start the new year than by getting pampered in a place that feels worlds away? Eric Hrubant, president of CIRE Travel, suggests heading abroad to a resort that specializes in wellness. "One that I personally recommend is CastaDiva Resort & Spa on Lake Como, Italy," he says. "CastaDiva has one of the best spas in Italy. And if you don't like massages or spa treatments, they offer a hydrotherapy circuit, indoor and outdoor pools, and a relaxing salt room."
Discover Zen In Nature
If being surrounded by trees and trails is your idea of the perfect escape, Jason Villacres, who specializes in leisure and corporate travel at CIRE, recommends Canyon Ranch in Arizona. "The tranquil desert and serene mountain backdrop seem to give you permission to let go of emails, social media, your Netflix queue, and all the other things that vie for your attention," he says. "Spend your day getting a massage, going to yoga or stretching classes; have a healthy (and delicious) meal from their spa menu, and then go for a nature walk."
"Get Away" Close To Home
Amy Brueckner, CIRE's chief of staff, points out that you don't have to go far for a getaway that feels miles away from the stresses of daily life. "If you don't have time to travel somewhere or don't want to spend a ton, why not book a hotel near home?" she says, mentioning that room service, breakfast in bed, and spa treatments are all luxuries you can enjoy locally. "My favorite hometown hotel is the Grace White Barn Inn in Kennebunk, Maine; beautiful rooms, a world-class restaurant, and walking distance to charming Dock Square in Kennebunkport."
If You Want To Unplug
Find Amenities That Allow For A Tech-Free Stay
Taking a break from technology doesn't have to mean trekking to the middle of nowhere with no cell service to speak of. Some destinations are designed to offset the negative effects of the screens while encouraging guests to switch off their phones. For instance, the Four Seasons Hotel Los Angeles at Beverly Hills has wellness suites equipped with circadian lighting to simulate sunrise and sunset for a better night's sleep — no cell phone alarms required. And of the aforementioned CastaDiva resort, Hrubant mentions that there is no LED lighting in the rooms. "Not having little red or green lights glowing all night makes a big difference!" he says. "So turn off your phones and ring in the new year with some much needed rest and relaxation."
Head Somewhere Without WiFi
But if you really want to go off the grid, Kelly Lewis, Founder of Go! Girl Guides for traveling females, purposely heads to countries with limited WiFi. "There's no better place for me to unplug and unwind than Cuba, because you literally have to," she says. "With limited to no internet access in Cuba, it's my go-to place when I really want to enjoy the moment and not be as available."
If You Seek Serenity
Leave Your Worries (Far) Behind
Katy Rebrovich, senior leisure agent at CIRE Travel, recommends that anyone in dire need of an escape should go "as far away from home as possible." For this, she suggests finding an island paradise that's barely on the map. "You can't get much more off the beaten track than Royal Davui Island in Fiji — you either have to take a helicopter or a speedboat transfer to get there," she says. "Once you check in to your private pool suite, you won't remember anything on your to-do list."
Rent A Private Residence
Looking for the ultimate private stay with friends or family? Esther Klijn, specializing in honeymoon and high-end leisure and business travel for CIRE, advises renting a villa. "Recently I did a trip for a CIRE client and his friends to St. Lucia," she says. "We got him a gorgeous four-bedroom villa for the Thanksgiving holiday. They hiked around the beautiful lush island, went boating, but hired their own driver for the week so they didn't have to worry about driving themselves anywhere."
Steer Clear Of City Lights
Lewis says that for a truly restorative experience, she heads away from city lights to sleep under the night sky. "Spending New Years Eve under the stars while camping in the Sahara Desert is the ultimate way to let go of your attachments to the old year and feel recharged for the new year," she says. If camping isn't your thing, try a posh glamping retreat or one of Airbnb's incredible glass-ceilinged dome homes, located all over the world.