This Quick & Easy Self-Care Habit Is A Game-Changer When You're On Your Period
L Julia/Shutterstock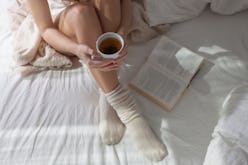 May is Menstrual Hygiene Month, so it happens to be a great time to not only spread awareness about women's reproductive health, but also to focus on the ways you can treat yourself even better during your cycle — especially if you suffer from symptoms like fatigue, irritability, abdominal cramping, and more. And the great news is figuring out how to practice self-care during your period doesn't have to be complicated or pricey. In fact, the extra TLC you might be craving could be easier to access than you think.
Lately, many wellness experts and brands are aiming to de-stigmatize discussions of period health, which has led to some important revelations that range from clearing hormonal acne with dietary changes to balancing hormones through adjustments in your workout (among many others). And one of the latest brands to embrace this idea is Blume, which not only creates traditional period products (like organic pads and tampons), but also a more comprehensive line of self-care goodies to help you feel your best inside and out (including a blemish treatment, aluminum-free probiotic deodorant, and a soothing aromatherapy blend).
Since Blume's founders Taran and Bunny Ghatrora have devoted their business to emphasizing this type of self care, they're well-versed on the topic. That said, the sisters can suggest a few ways you can try to slow down, tune in, and treat yourself a little more kindly during the roughest times of your cycle — some of which might already be sitting in your kitchen cabinet. Ahead find four simple things you can do next time you find yourself struggling with period symptoms.
Ease Up On Your Workout
If going hard at the gym still feels good to you, there's no need to stray from your usual workout. That said, many women find that their body is in need of a bit more restoring. If that describes you, just opt for something low impact instead. "Swap out your HIIT work out or spin class for a yoga class," Bunny recommends. "A calming yoga class can relax your muscles and help ease period cramps." Specifically, yoga postures like bridge post, standing forward fold, bow pose, and cobra may help soothe period pain.
Sip Ginger Tea
"There are studies that have found that a cup of ginger tea can be as effective as popping an ibuprofen, when it comes to period cramps." says Taran. "Ginger helps digestion and also inflammation. Steep two tablespoons of fresh ginger root in water for 15 minutes, then strain and drink with some lemon or honey added."
Soak It Up
Great news for bath lovers: a relaxing soak could be just the relief you need if you're struggling with cramps. But don't forget one important ingredient: epsom salt. "Epsom salt baths are amazing for period self care," Taran says. "The epsom salts and magnesium will provide pain relief and the bath will relax you." You can also try a CBD bath product to get additional anti-inflammatory benefits.
Try Aromatherapy
Essential oils like clary sage, lavender, geranium, cypress, and rose may help alleviate symptoms like cramping and mood swings. And Blume has created its own medley which can be applied directly for relief. "We discovered how well these works for period cramps and other symptoms like nausea, prior to launching Blume and we've been hooked ever since," Taran says. "[Cloud 9] has an essential oil blend for cramps [with clary sage] which helps balance hormonal imbalances and calms cramps by relaxing the muscle spasms that cause cramps." And the brand has even partnered with Days for Girls to provide period kits and education for girls in need for every purchase made.