How To Plan A Valentine's Day Party Your Single Friends Will Love
g-stockstudio/Shutterstock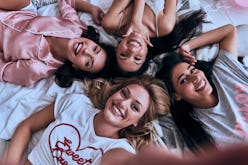 When you're single, Valentine's Day isn't always the most exciting holiday to celebrate, given the fact that you're likely inundated with images of impossibly happy couples and ads for cliché gifts around every corner — it can be a bit eye-roll inducing, even for the most independent and secure women. But if you think about it, this is a holiday that at its core is about spreading love and that's something everyone has in their life — especially if you've got a great group of lady friends. That said, why not take the holiday as an opportunity to plan a singles Valentine's Day party that will have them feeling all the love?
A truly memorable bash requires a fair amount of planning, whether that means creating a custom cocktail that captures the essence of the occasion or decking out your space with decor that's chic (not cheesy). And then of course there's food and drink to consider. Frankly, it can be a bit overwhelming for anyone who's not well versed in the art of entertaining — but thankfully Ashley Bryant, founder of Los Angeles-based event design studio Main Schatz Events is just that.
Considering the fact that her stylish affairs have been covered by the likes of Martha Stewart Weddings and Green Wedding Shoes (among others), Bryant is a pro when it comes to pulling off elegant and glamorous events — and why shouldn't her advice also be applied to a bash that honors you and your single girlfriends? Ahead find her top tips for planning a Valentine's Day soirée that might just change your mind about this often lamented holiday, plus create lasting memories.
Get Nostalgic With Invites
A great bash starts with the invites. After all, it's your guests' first taste of what the event has to offer. For your single ladies' party, Bryant suggests skipping e-vites in favor of the real deal for an extra special touch that also nods to the tradition of Valentine's Day. "Email is fun, but who doesn't love snail mail?" she asks. "These handmade cards by Ghost Academy have that grade school nostalgia, but are perfect for your single gals with a sense of humor."
Treat Them To Flowers
"Flowers are also a key element on Valentine's day," explains Bryant. However, she does suggest staying away from some overdone V-day mainstays to make your party feel celebratory, not cheesy. "Stay away from your typical hot-house roses, and bring in some wild, organic arrangements," she says. "You could even pre-wrap a few bouquets in craft paper, and let your gals take them home." Try ranunculus instead, which are in season, and as pretty as roses without being cliché.
Embrace (A Little) Cheesy Decor
Red roses are a no-go, but Bryant does recommend embracing some traditional elements in your decor. "You don't have to go crazy with decorations, but I do love a few statement pieces to set the scene," she explains. "Think a few heart balloon bundles [...] and confetti sprinkled on your dining or coffee tables [or a heart garland] for the front door or above the fireplace."
Create A Custom Cocktail
If you're planning to imbibe at your party, why not keep the Valentine's Day theme going with the beverage offerings? "Pink wine glasses or some vintage coupes would be adorable," Bryan suggests for wine and bubbles. But she's quick to add that a custom cocktail is even more special. "If you're feeling like a cocktail may be more your speed, give this Raspberry Gimlet, by our pals over at The Whaling Club, a try." The drink includes muddled raspberries with a splash of simple syrup, a dash of lime juice, and your choice of vodka or gin, shaken, strained, and garnished with a few fresh berries.
It Pays To Graze
As for what to eat, Bryant suggests grazing and light bites to keep conversation flowing and give a casual feel. "Who doesn't love a beautiful cheese board? You can order a gorgeous one [...] or get creative with your own," she offers. "I love grabbing a few essentials from Trader Joe's and artfully arranging them on a pretty wood board."
Go Classic Girl's Night In
If you're game for a full-on slumber party, don't forget essentials like pampering products (mani/pedi supplies for example) or cute pajamas. For an extra special touch, order your guests their own monogramed robe or pj's so they can slip into something more comfortable during your girl's night in.
Don't Forget The Favors
And finally — favors! Bryant suggests treating your guests to takeaways like a basket with a few fun little things like a face mask, a book of love spells, and a can of Babe rosé. That way the party can keep going long after they leave.