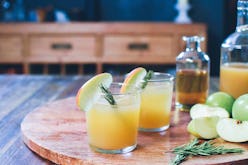 Fall is a joke at this point, so let's keep on drinking like those hot summer days never left (because they haven't if you live in LA!). And just because the weather is pulling a fast one on us doesn't mean we can't get into the seasonal spirit. Let's fake it till we make it with these festive fall cocktails.
Pumpkin Spice Sangria
Author: The Zoe Report
Serves: 6
Ingredients: 1 apple, sliced 1 orange, sliced 3 cinnamon sticks 1 1/2 bottles white wine 1 cup apple cider 1/2 cup Grand Marnier 1 Tbsp pumpkin pie spice
Directions: Stir all together. Chill at least 1 hour.
For the smoke effect: Add 1 chunk dry ice.
*Make sure to use tongs or safety gloves. Do not drink dry ice or touch with hands.
Pumpkin Pie Martini
Author: A Night Owl Serves: 1 Ingredients: 6 gingersnap cookies 2 oz. Irish cream 1 Tbsp pumpkin puree 1 oz. vodka Dash of pumpkin pie spice Dash of vanilla Directions: Blend gingersnap cookies. To line the martini glass, dip the rim in Irish cream and then into the gingersnap crumbs. Combine and shake all ingredients. Serve over ice.
Apple Cider Hot Toddy
Author: Aimee Mars
Serves: 2
Ingredients: 1 cup apple cider 2 Tbsp honey 2 Tbsp bourbon Apple slices and cinnamon sticks, for garnish
Directions: Heat the apple cider and honey in a medium saucepan until just steaming. Pour bourbon into two glasses and add cider mixture. Garnish with apple slices and cinnamon sticks.
Blood Orange And Sand
Author: Jojotastic
Serves: 1
Ingredients: 1 oz. scotch 3/4 oz. Cherry Heering liqueur 3/4 oz. sweet vermouth 3/4 oz. blood orange juice 1/2 oz. blood orange soda 2 all-natural maraschino cherries Orange peel
Directions: Combine all ingredients, adding blood orange soda last. Serve over ice.
Rosemary Mezcal Apple Cider
Author: Kale & Caramel
Serves: 4
Ingredients: 8 oz. mezcal 4 oz. fresh lime juice 1 Tbsp agave nectar 2 cups unfiltered apple cider Sea salt 4 fresh rosemary sprigs Apple slices, for garnish
Directions: Pour liquid ingredients plus a few pinches of sea salt into cocktail shaker. Stir to incorporate agave. Pinch off a few rosemary leaves and muddle into liquid for just a few seconds to release flavor. Serve over ice.
The Signal Fire
Author: The Effortless Chic
Serves: 1
Ingredients: Homemade peach cilantro syrup Fresh lime juice Jalapeño-infused Plymouth gin
Directions: Mix all ingredients together. Shake well. Serve over ice.